Best Free Sports Streaming Sites: A List of 30 Websites for Live Sports Streams
Tony Bennett
2022.06.28
Articles & News
Streaming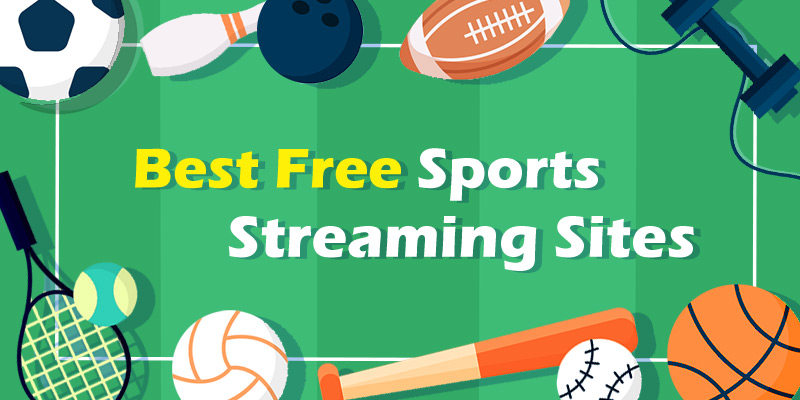 Plenty of die-hard sports fans are looking for the best free sports streaming sites to keep them up to date with their favorite sports events. That's the reason we write this post. The following contents include the 30 best websites for live sports streaming.
Read to know what tournaments are taking place and where to watch them. How can you watch geo-blocked live sports streaming content from anywhere? Using a VPN helps. Get to know how to pick a VPN for streaming.
1. Fox Sports
Fox Sports is a good choice for live sports streaming. Provide streaming of national Fox Sports channels, including Big Ten Network (BTN), Fox Sports 1 (FS1), Fox Sports 2 (FS2), Fox Soccer Plus, Fox Deportes, Fox Sports Racing, and Fox Sports Radio.
Live events from the worlds of WWE, NFL, NASCAR, boxing, basketball, and more can all be found there. While Fox Sports is free, you have to be signed up with your TV provider to access the streams. So, if you don't have a subscription to one of the networks above, you may need to choose a different sports streaming site.
Besides the official website, there is a Fox Sports app that works on Android and iOS devices, as well as streaming devices, including Apple TV, Fire TV, Google Chromecast, Roku, Xbox, and Android TV. Namely, you can enjoy your favorite Fox events everywhere.

Pros:
 Include several network packages
 Split-screen to watch four games at the same time
 Seamless switching between devices
 Easy to navigate interface
Cons:
 Intrusive ads
 Only available in certain countries like the US
 Need to be signed up with a TV provider to access the live sports streaming content
2. ESPN
ESPN doesn't offer free live streaming. But it's a good website to see the highlights of sports events and news around the world. You can read articles, watch video commentaries, find out rankings, etc., on these free sports streaming sites.
ESPN Watch is a sports streaming site where you can watch live streaming content of football, basketball, baseball, college sports, hockey, golf, tennis, MMA, NASCAR, esports, UFC Fight Nights, and more. But only a few streams are completely free and a valid login from a qualifying cable or satellite subscription or a subscription to ESPN+ is required.
ESPN also has an app and it is available on Windows PCs, Macs, Android devices, and iPhones, making it easy to watch your favorite sports on the go.

Pros:
 An encyclopedia for live schedules, highlights of sports matches, sporting commentary, etc.
 Good coverage of American sports
 Friendly user interface
Cons:
 No live sports streaming
 Geo-restrictions in certain areas of the world
 Need to login into a cable or a subscription to ESPN Plus or satellite
3. BBC iPlayer
BBC iPlayer is a famous UK streaming website that includes a sports section. It is only available in the UK. You have access to football, cricket, Formula 1, Rugby U, Tennis, Golf, Athletics, Cycling, etc. Apart from streaming live content, you can also find sports news all over the world.
HD definition is available as long as the content is recorded in this quality. Selected streams even support the 4K definition. Note that internet speed influences the streaming quality.
The website works on numerous platforms including Android devices, iOS devices, and Windows computers. You can download the BBC iPlayer app to watch sports, the latest TV series, and documentaries on the move as well.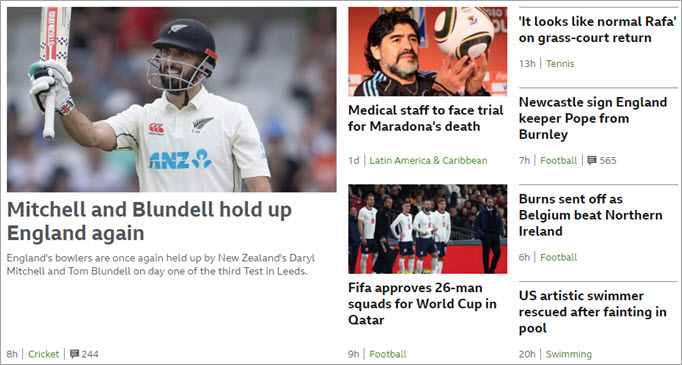 Pros:
 Graphical user interface with large category selection
 4K streams are available
Cons:
 Restricted in the UK
 Account registration is required
 Doesn't work perfectly on mobile devices
4. SonyLIV
Operated by Sony, SonyLIV is a free Indian streaming website where you can watch sports matches, English and Indian movies, and TV shows. Sports fans can find live streams of football, cricket, tennis, Grand Prix racing, MotoGP, WWE, UFC, and the NBA. It also provides match schedules, match stats, and analysis.
Surprisingly, SonyLIV Sports is a free sports streaming site without pop-up ads! But the free content is limited. To watch premium content, you need to subscribe. The biggest drawback is that most of the content is in Indian and you probably can't understand the language.
The SonyLIV app is available on Android and iOS devices.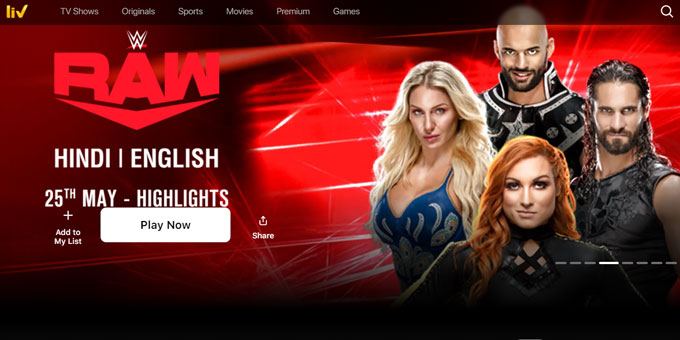 Pros:
 No pop-ups
 Live scoreboard offered
 Easy to navigate user interface
 An extensive collection of popular sporting events, TV shows, and movies
Cons:
 Restricted in India and you'll require a VPN to access SonyLIV in the US and other countries
 Mostly Indian content without subtitles
5. Hotstar
Operated by Disney, Hotstar is one the best free sports streaming sites that give you access to various events, including cricket, tennis, the EPL, and a host of Indian sports leagues such as the Indian Super League and the Premier Badminton League.
You can tune in to any one of the numerous sports channels to catch up on live games, highlights, replays, and commentaries. HD quality is offered.
The Hotstar site and app are now available in India, Canada, the UK, and the US. A VPN is necessary to stream on Hotstar if you are not in these countries. Interestingly, most users still prefer the Indian version due to tons of free content and the cheap price.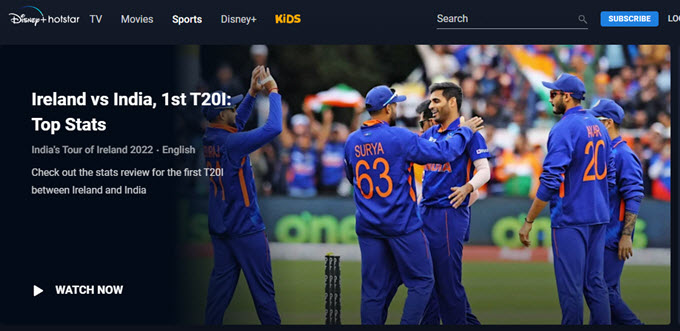 Pros:
 High-quality streams on both computer and mobiles devices
 Tons of free streaming content
Cons:
 Geo-restricted in many countries
 Ads are intrusive and repetitive
6. RedBull TV
RedBull TV is the best sports streaming site for adventure sports enthusiasts. There are sports events including racing, surfing, snowboarding, skating, and more waiting for your exploration. Free live streams of these events are available. You can watch live sports events on this site without a subscription!
The website also provides a host of information on different sports, athletes, and upcoming events. It is a great resource for adventure sports enthusiasts to learn more about the sport and stay up to date. Work on Apple TV, Amazon Fire Stick, Roku, and even the Oculus headsets.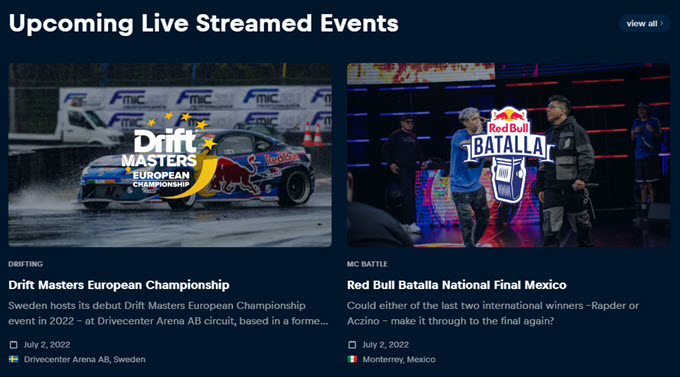 Pros:
 Adventure sports can be found here
 No sign-up or subscription to watch free sports
Cons:
 Not a site for mainstream sports
7. VIPBox Sports
VIPBox Sports is a good website for free sports streaming, featuring all the popular sports like football, American football, UFC, WWE, boxing, tennis, golf, basketball, baseball, ice hockey, rugby, etc. You don't have to sign up for an account for VIPBox Sports. Simply click on one of the live streaming links of many sports like football and you'll start streaming events online.
It is troublesome that you have to keep closing ad links that pop up when you click on a sports streaming link. You can use an ad-blocker when you visit this website. It looks very similar to the VIPBox Sports website.

Pros:
 Friendly user interface
 Rich sports streaming categories
Cons:
 A lot of ads that trigger when you click on a link accidentally
8. VIPLeague
VIPLeague is one of the oldest free sports streaming sites, covering a wide range of sporting events such as American football, basketball, baseball, hockey, tennis, golf, football, rugby, darts, handball, racing, etc. You don't have to be signed up, but you need to put up with the annoying pop-ups.
In many countries, VIPLeague is blocked. To access this site, you need a VPN to bypass the geographical restrictions or try to the website through other domain extensions like "vipleagues.tv" or "vipleagues.eu".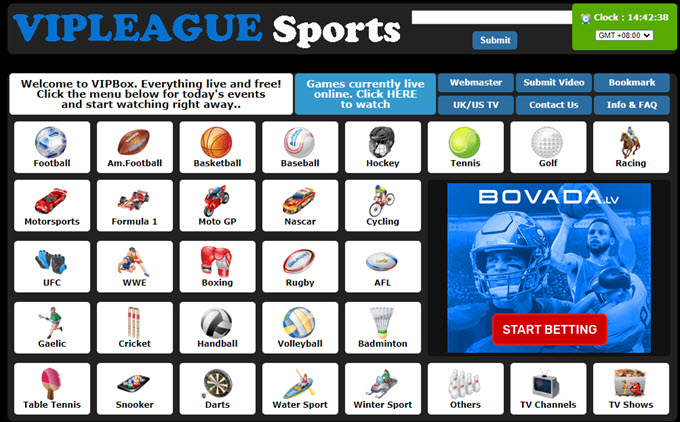 Pros:
 Massive live streaming selection, categories, and HD streaming capabilities
 Easy to navigate user interface
 Sports news available
Cons:
 Annoying ad placements
 Unavailable in many countries
9. Stream2watch
Stream2watch is one of the best free live sports streaming sites. You can stream US football, football, basketball, baseball, boxing, rugby, tennis, hockey, golf, etc. This website lists Today's Sports for sports fans to know exactly what's worth watching today.
Offer a range of different football leagues and tournaments, including the Premier League, Serie A, Bundesliga, Ligue 1, La Liga, Champions League, Europa League, and the FIFA World Cup. This is a great place for football fans!
There may be quite a few ads, which is the way the site supports free content here. An ad blocker can help a lot. The site works on desktop computers, tablets, Smart-TV, Android TV, mobile phones, and gaming consoles. For the best performance, you'd better use browsers with the latest versions of Google Chrome and Firefox.

Pros:
 No fake sign-ups, no subscriptions, and no accounts needed
 Excellent adaptive video and sound quality with an up-to-date program guide
 Provide links to other sports streaming sites
Cons:
 Contain a lot of advertisement links
 Many ISPs are blocking access to this site, but you can fix this issue by using a VPN.
10. Firstrowsports
Firstrowsports was originally created for soccer and football lovers and now provides live streams for other sports, including basketball, baseball, tennis, rugby, moto GP, boxing, ice hockey, and more. There are times when the site is down, but it usually comes back on due to maintenance.

Pros:
 No registration requirements
 Consists of a rich sports streaming category selection
Cons:
 Annoying ad placements
 Buffering
 Not available in all regions or countries in the world
 Although FirstRowSports is an excellent streaming website, sometimes it doesn't work
11. Footybite
Footybite is a free sports streaming site that offers good coverage of international football, or soccer in America. But other sports such as basketball, hockey, cycling and baseball are also covered. The Footy News Section is a good place to get to know the up-to-date information on football events from the major leagues.
In addition, Footybite also allows you to watch live TV in HD. The channels here include Sky Sports, BT Sport, NBC Sports, and several other TV channels for sports.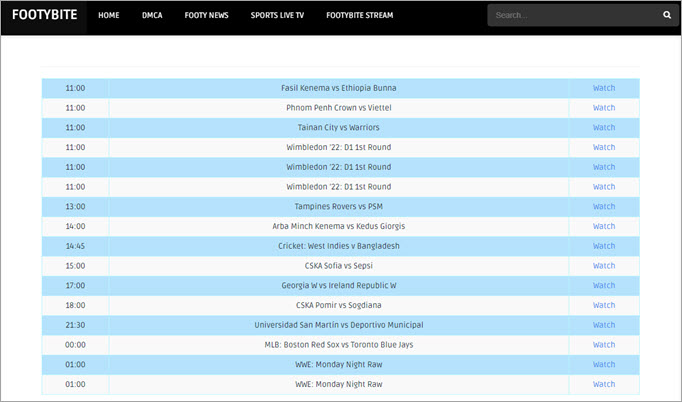 Pros:
 Offer a good coverage of football or soccer games
 Few ads and pop-ups, a clean interface, and no registration is required
Cons:
 The site is in unverified status, so do not enter sensitive information on this page, for example, passwords or credit cards
 Coverage of live sports streaming is limited
12. Fromhot Sport
Fromhot Sports is a free sports streaming site that provides a huge array of sports, including football, basketball, table tennis, water sports, volleyball, tennis, darts, cricket, e-sports, water polo, ice hockey, handball, billiard, baseball, racing, rugby league. You can watch any sports event you like a live stream. Also, you can watch highlights and replays of the major events that you missed.
However, none of this content is hosted on the website. Instead, you will be redirected to channelsurf.tv to watch live TV content and javafooty.com for sports highlights. If you want to get your sports matches from the same place, then this site may not be the best option for you.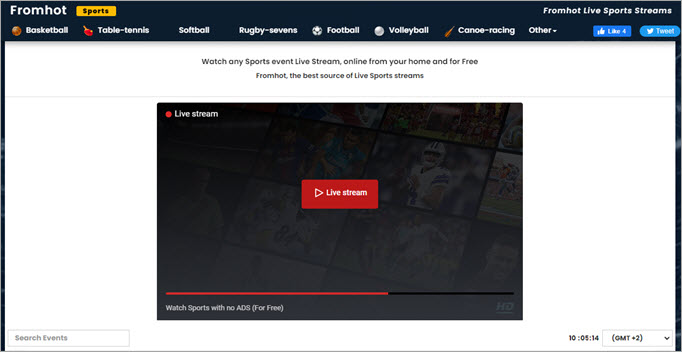 Pros:
 Clear and easy-to-use interface
 Offer massive coverage of live sports matches across a wide range of categories
 Numerous live sports events all over the world supported with no sign-up
 Not so many distracting ads
Cons
 Redirect you to other websites
13. LiveTV
LiveTV is one of the free sports streaming sites that focus on football/soccer. You can expect numerous live sports events, including football games of the UEFA Champions League, English Premier League, German Bundesliga, French Ligue 1, Spanish Primera Division and Italian Serie A, or major events in other sports types, such as ice hockey with the NHL or basketball with the NBA.
More available sports on Live TV cover swimming, tennis, and hockey. Besides live streams, the site also provides match replays and tournament previews for sports enthusiasts to keep pace.
Also, you can comment and discuss what you watch with sports fans from all over the world. This, however, requires you to register an account. Think twice before you sign up because Google shows that the site is insecure.

Pros:
 Without signing up, you can stream live sports matches
Cons:
 There are annoying pop-ups, but ad blockers can help
 The Russian Government regularly targets sites like Live TV
14. RojaDirecta
RojaDirecta has been one of the popular and free football streaming websites for many years. It also contains categories for other sports such as baseball, basketball, billiard, combat sport, ice hockey, racing, table tennis, tennis, volleyball, MMA, etc.
Various kinds of stream links are provided for almost every sports event, for example, AceStream or Flash links. This means you can choose the type of link that will work best on your device. You can also check the live sports schedules on this site and watch replays and highlights of recent matches. All are uploaded in standard or high quality.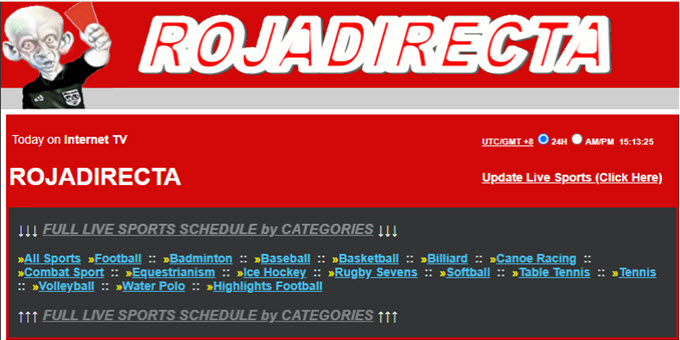 Pros:
 Impressive category selection of sports
 No registration requirements
 High-quality of streams
Cons:
 Ad frequency and outdated website design
15. Cricfree
Cricfree is a cricket-focused sports streaming site, also offering other sports including football, soccer, boxing, tennis, baseball, basketball, rugby, Moto Grand Prix, hockey, etc. Provide schedule of daily matches on the home page.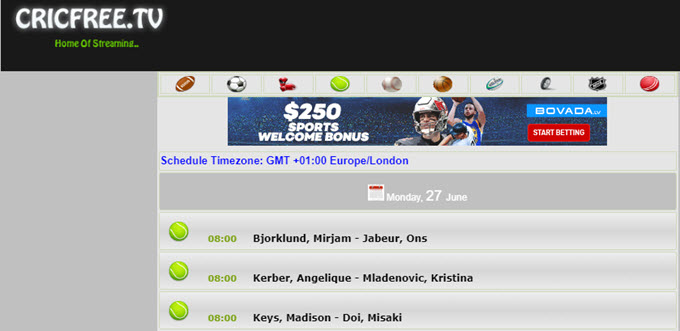 Pros:
 A comprehensive source of cricket games
Cons:
 A lot of intrusive ads even if you have an ad blocker installed
 The site is blocked in many countries, so consider using a VPN
More 16-30 Free Sports Streaming Sites
There are more free sports streaming sites for you to choose from:
| | | | |
| --- | --- | --- | --- |
| | Streaming Address | Live Sports Streaming Content | Sign Up or Not |
| 16 | CricHD | Cricket, Football, Rugby, Tennis, Moto Race F1, NFL, WWE, Boxing, NBA, MLB, Golf, Hockey, Cycling, Volleyball, Darts, Snooker, etc. | No |
| 17 | SportSurge | Boxing, Hockey, Motor Sports, MMA, Football, Soccer, Basketball, Formula 1, Cricket, Rugby, NCAA, CFB | No |
| 18 | CrackStreams | NBA, NFL, UFC, NHL, and Boxing | Yes |
| 19 | Facebook Watch | MLB | Yes |
| 20 | Live Soccer TV | Soccer, Rugby, and Cricket | No |
| 21 | Batsmanstream | Football, NFL, MLB, Handball, Hockey, Motor, Rugby, Tennis, Volleyball, etc. | No |
| 22 | Reddit Sports | No live streaming; only news and highlights from the NFL, MLB, NHL, MLS, NBA, and leagues around the world | Yes |
| 23 | Laola1 | Handball, hockey, basketball, etc.; service off | No |
| 24 | StreamEast | Baseball, Football, NBA, MMA, Boxing, Soccer, Hockey, etc. | No |
| 25 | Peacock TV (Not VPN-friendly) | WWE, Premier League, MLB, Basketball, NFL, IndyCar, Supercross, Rugby, etc. | Yes |
| 26 | USTVGO | NFL, WWE, NBA, MLB, Golf, Tennis, etc. | No |
| 27 | BossCast | basketball, cricket, rugby, soccer, football, etc. | No |
| 28 | Strikeout Sports | Football, Basketball, Soccer, Hockey, etc. | No |
| 29 | BuffStream | Soccer, Boxing, MMA, Motor, Baseball, Football, Basketball, and more | No |
| 30 | Pluto TV | MMA, Golf, MLB, Wrestling, and more | Yes |
How to watch geo-blocked live sports streaming content from anywhere?
A virtual private network (VPN) is needed if the live sports streaming content is blocked outside of a certain area. Using a VPN enables you to connect to remote servers in countries all over the world. This way, your original IP address will be replaced by the addresses in the unrestricted country. As a result, you can watch the geo-blocked live sports streaming programs from anywhere.
A good VPN for streaming protects you from unsafe websites as well. Virtual private networks are based on VPN protocols like OpenVPN to transfer your data through an encrypted tunnel. No third parties like hackers, advisers and ISPs can track you. Here we introduce PandaVPN to you and see its highlights below:
Servers: 3000+
Countries: 80
Speed: Super-fast
Logs: Strict no-log policy
Simultaneous connections: 3 and you can tailor the subscription plan if you wish
Ad-blocker: Built-in ad blocker to try to offer you an add-free environment on iOS devices
Price: $2.49/month, available for 12+12-month subscription plan
Free trial: 7 days for iOS & 3 days for Android
Refund: 7 days full-back money-back guarantee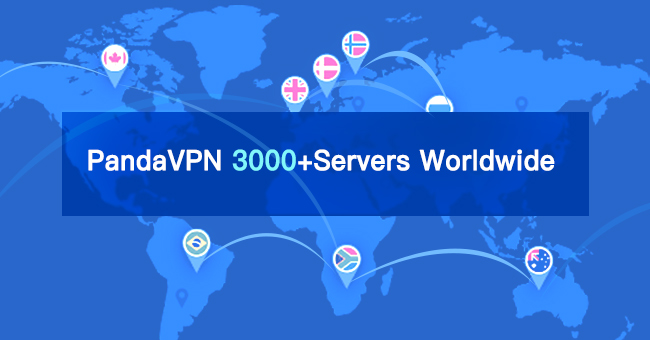 FAQs about the Best Free Sports Streaming Sites
Are free sports streaming sites safe?
Generally, most free sports streaming websites are safe to visit. But it's undeniable that malicious sites try to collect user information. The best way to deal with them is to visit reputable sites always and use security software like VPN to hide your IP address or anti-virus to keep your device safe.
Are free sports streaming sites legal?
Watching live sports streaming online is not illegal. However, some free sports streaming sites may include copyright or pirated content. Theoretically, it is not legal if the stream content you want to watch is copyrighted. And you may receive a copyright infringement email if you watch or download copyright streaming content.
Can I access these streaming sites in the US without a VPN?
It depends. Take SonyLIV as an example. SonyLIV is geo-restricted and not available in the USA. To access SonyLIV in the US, you have to use a VPN with reliable Indian servers. PandaVPN provides several servers in Bangalore, Hindistan.
Where can I watch football online for free?
Stream2watch, Footybite, LiveTV, and Live Soccer TV are some of the best football streaming sites that I prefer. Take Stream2watch as an example. It offers a range of different soccer leagues and tournaments, including the Premier League, Serie A, Bundesliga, Ligue 1, La Liga, Champions League, Europa League, and the World Cup. The best part is that it is all free.
What are the best boxing streaming sites?
Many sports streaming sites we mentioned above offer access to boxing streaming, including VIPBox Sports, Stream2watch, Firstrowsports, Cricfree, CricHD, SportSurge, CrackStreams, StreamEast, and BuffStream. You can go to these boxing streaming sites to have a check.
Exercise your rights to privacy in digital age!
Get PandaVPN
7-day money-back guarantee