Can I Use Steam VPN Now to Change Steam Region for Game Purchase & Play?
Vic Knott
2022.03.05
How-to Guides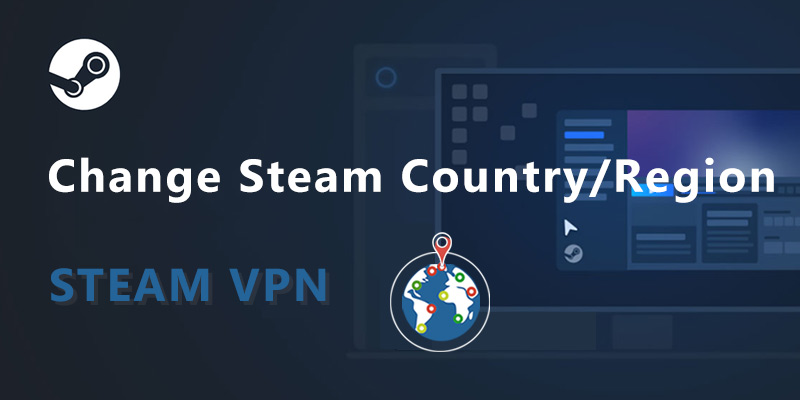 Steam is the most popular gaming spot for players, with up to 120 million monthly active players and 7.44 million concurrent in-game users. However, the geo-restriction of games and price gap make people wonder whether it's possible to change Steam country/region of the store to play geo-locked pieces or just for cheaper prices and certain promotions if the Steam VPN usage is acceptable…
Anyone who starts to access or has already indulged him-/herself in the world of PC gaming must know about Steam more or less, the one that's currently the No.1 platform for the video game. Steam storefront was a digital content distribution service developed and launched by Valve in 2003 to connect players with game developers directly. With a Steam client in handy, game creators and publishers can release and sell their content here. At the same time, players can also search for and download official (rather than pirated) games straightforwardly, update games automatically without hassle, find a community for special games, do real-time in-app communication, stream and share your live event with others, and do any other things related.
Steam was initially available for Windows only. As time goes on, the version for macOS, Linux, iOS, Android, and Windows Phone are out successively. So once your machine is well-configured for gaming, you are free to access and enjoy any supported games as you like.
Market Restriction – the Barrier for People to Relish Steam Games Equally
At present, 28 languages are available on Steam's official site in total – store.steampowered.com and according to a forum discussion, 237 countries and regions are supported by Steam, which is far from the United Nations member states – 193, meaning that Steam nearly adds all nations and territories worldwide into its marketing range.
Then it comes to the key point of Steam's market restriction.
In short, the price of a game differs from one to another depending on the real location. And the truth is that Steam doesn't have the right to determine the price of a game in any target areas, but delivers the game publishers to control the pricing wholly by themselves, including pricing and discounts in any possible currency, with given tools.

Just like other global Internet services (e.g Netflix and Apple Music) do, those publishers didn't keep the price tag of their games the same all over the world, but vary prices from countries considering the real economic situation and average per capita income maybe. For example, it's a known fact that the game prices in Western countries are normally more expensive than Eastern ones and the developed countries are higher than developing and industrialized ones. That makes the avid gamers in relatively higher-priced regions want to alter their store places to gain the benefit from the satisfactory lower prices, be it the original prices, seasonal discounts, and gift cards.
What's the Relationship Between Country of Gameplay and Store Purchase.
Take care of store region selection when you are doing the very first Steam game purchase. That's because once it's determined, your further gaming place and buying behaviors are all fixed to this region. If you didn't notice this information before, you can check it under Account Details, just like the screenshot shown below:

That said, if you've chosen the United States when you finished your 1st-time store purchase, it will be the default region, even when you go aboard for some reason.
How to Change Steam Country? Two Ways Are Shared [Steam VPN Included]
Way 1 – Change Steam Region at Home with VPN at the Very Start
For price or game library purposes, if you want to locate yourself in another territory, you can mask your real IP address and place it in another one in the target territory, with the help of a VPN program.
VPNs are not only able to change IP addresses, stop traffic throttling from ISP, but also encrypt all of your traffic and data with VPN protocol and advanced cryptographic algorithm. Simply put, in given circumstances, a piece of VPN software switches your IP location, accelerates gaming speed, and secures all of your internet behaviors in case they are collected by ISPs, governments, hackers, employees, schools, etc.
PandaVPN is a fast, secure and easy-to-use Steam VPN that you can completely rely on. By supporting 3000+ servers in 80 countries and 170 locations, you can one-click set yourself in any available cheap Steam game country without hassle, like Argentina, Serbia, Turkey, Brazil, and Russia. Plus the ECC encryption, no-log policy, 24*7 tech support and 7-day refund, you won't worry about anything with this Seychelles-based (a perfect place for "no logs" policy) service.
Way 2 – Update Steam Region When Going Abroad to Replace the Previous One
If you are an international student, businessman, or some other who moves from one region to another, as long as you will be there for a long time and has a local payment method, according to SteamDB's Twitter, you can update the location associated with your account every three months. This is a fresh new rule delivered by Steam to cater to users with special region switching requirements.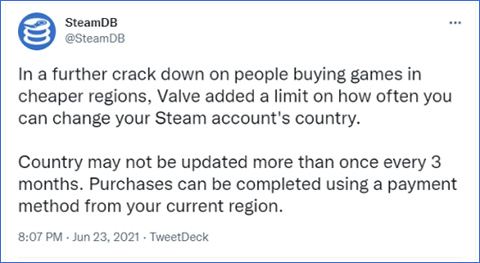 Steam Are Now Aware of Massive Steam Region Changes and…
In the most recent year, Valve is continuously making efforts to make the store region pick more strict and crack down on the Steam "travelers" for obtaining cheaper games in foreign countries.
Specifically, the platform advocates users not use IP proxy to disguise the real residence place to activate the geo-restricted gift. If you are detected to do so, a warning with red texts would appear. In addition, your Steam account may still be restricted. Therefore, you are suggested to think twice before you decide to go on for another position.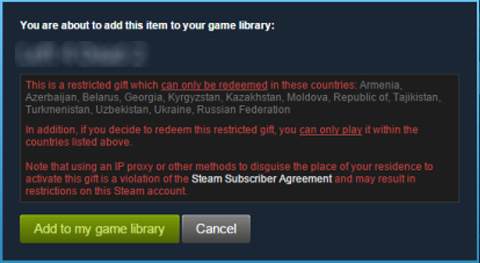 And if you really need to own another Steam store region, as mentioned above, you should prepare a local payment (bank or credit card) approach for successful buying, for instance, PayPal, Visa, MasterCard and American Express. Steam once had support for Bitcoin but banned the usage of it in late 2017. In October 2021, Steam delivered another edict to ban both games using blockchain tech and games enabling players to exchange cryptocurrencies or NFTs.
Then, Can I Use (Steam) VPN or Proxy with Steam Game Now?
Surely you can. Until now, there are no explicit words on that VPN is prohibited during Steam gaming. The only thing to be clearly stated on Steam's Subscriber Agreement is that:
"You agree that you will not use IP proxying or other methods to disguise the place of your residence, whether to circumvent geographical restrictions on game content, to purchase at pricing not applicable to your geography, or for any other purpose…"
The main purpose of this rule is to decrease or end the IP changing actions for whatever goals. Although it claims to determine user accounts once such IP migrating is found, in June 2021 for example, Valve just rolled some "fake" Argentina accounts back to the real original country like China, not stopping them without mercy.

In conclusion, if you only leverage VPN to accelerate gaming speed, with an IP in the same area, you are not against any term at all and can make use of it at will. If you'd like to change the Steam region with Steam VPN anyway, even after knowing about Valve's rules and attitude towards such IP proxying activity, you own the risk of Steam account rollback or ban by yourself.
Some Steam Statistics You May Be Interested In

Top 10 Languages Used on Steam
Most-played Steam Games in Feb. 2022
Top 10 Most Wishlisted Steam Games
1. English
2. Simplified Chinese
3. Russian
4. Spanish0 – Spain
5. Portuguese – Brazil
6. Korean
7. German
8. French
9. Polish
10. Japanese
1. ELDEN RING
2. Counter-Strike: Global Offensive
3. Lost Ark
4. Dota 2
5. PUBG: BATTLEGROUNDS
6. Apex Legends
7. NARAKA: BLADEPOINT
8. Destiny 2
9. Team Fortress 2
10. Grand Theft Auto V
1. Dying Light 2
2. Battlefield 2042
3. Party Animals
4. Hollow Knight: Silksong
5. Vampire: The Masquerade – Bloodlines 2
6. Icarus
7. The Day Before
8. Age of Empires IV
9. Total War: WARHAMMER III
10. Forza Horizon 5
Exercise your rights to privacy in digital age!
Get PandaVPN
7-day money-back guarantee