Singapore VPN: Is It the Best Way to Remove Website Unblocking, Protect Net Privacy, etc,?
Vic Knott
2021.12.06
Articles & News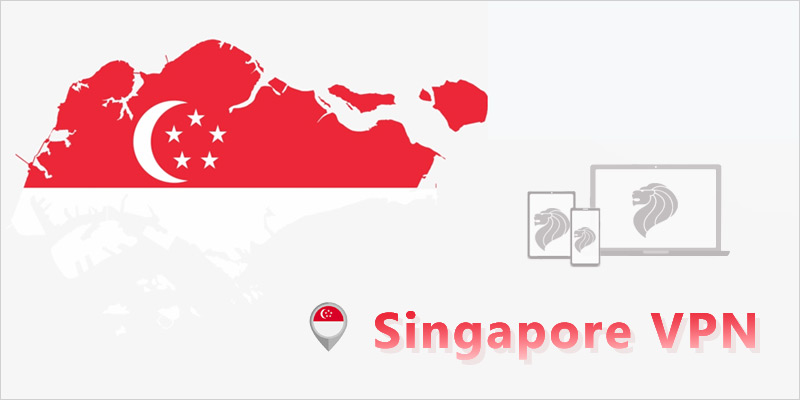 To get around site blocking, content censorship and be more protected online, you should seek help from the best Singapore VPN, which can also enable people going abroad "go back to" the home country with a virtual Singapore IP.
1. Internet Censorship Overview in Singapore
Singapore is a nation with partial internet freedom, with many websites blocked and somewhat heavy online content censorship to limit ordinary Singaporean to access, view, and publish something free.
It's understandable that every region has its own web control attitude and regulation. As for Singapore, it has been over 25 years since the very first internet monitoring activity from SBA(Singapore Broadcasting Authority). And now, it's the IMDA – Infocomm Media Development Authority – that the government has empowered to perform the improper website "shutdown". IMDA, aka MDA in many places, simply works with the three big ISPs, namely Singtel, StarHub, and M1, in Singapore to carry out the internet censorship and filtering. Until now, hundreds of site names are on the ban list, which mainly contain objectionable materials that are against "public interest/morality/order/security, national harmony, or prohibited by applicable Singapore laws", say unlicensed gambling, copyright infringement & piracy, fake news, pornography, extramarital dating, nudity, defamation of government and many more.
People may also get arrested and charged for improper comment posting on the web, especially on the social media platforms like YouTube, WhatsApp, Facebook, Instagram, and Twitter. There are many such cases in recent years:
– In June 2020, a 19-year-old permanent Singapore resident was arrested for publishing religious-feeling content and fomenting violence on Instagram.
– In November 2020, an activist was charged for protesting the Online Citizen's chief editor (the one that's charged still with criminal defamation before).
– In February 2021, a man was jailed because he expressed the People's Action Party tended to marginalize Malay Singaporeans through WhatsApp…
In short, anything related to politics, races, occult, or other universal social value is under strict surveillance, some of which even leave the common people no space to view, discuss, and express themselves. If you are a native and simply want to see something new or obtain a little freedom of speech, you will have to hide your IP address and make yourself invisible from the ISP and government with another virtual one.
2. Worldwide Streaming Services' Marketing Plans in Singapore
We only choose the streaming service to elaborate in detail just because other general internet services are all workable as in everywhere else (note the above mentioned banned porn/torrent and similar immoral & illegal sites should be excluded).
According to the newest Statista's report on most preferred video-on-demand/SVoD subscription in Singapore of 2021, below are the top 10 names in sequence:
| | | | | | | | | | | |
| --- | --- | --- | --- | --- | --- | --- | --- | --- | --- | --- |
| RANK | 1 | 2 | 3 | 4 | 5 | 6 | 7 | 8 | 9 | 10 |
| NAME | Netflix | Disney+ | Amazong Prime Video | YouTube Premium | meWatch | Viu | Apple TV+ | HBO Go | Tencent Video | Hayu |
| % | 87% | 26% | 15% | 13% | 13% | 13% | 10% | 8% | 4% | 3% |
* This is a conclusion of all Singaporean respondents but not all residents and comes from survey from Rakuten Insight.
Obviously, Netflix is far more popular than all other streaming platforms in this Asia country. As of January, 2021, Netflix Singapore library has about 5,960 titles in total, ranking within the top 10 most content available on Netflix all over the world. Even so, due to the reason of region, besides the a portion of universal titles that are accessible across the world, the left ones are distributed quite differently, which gives rise to the usage of VPN to unblock Netflix library in other areas like (watching Netflix) in the United States/American, Korea, Japan, Hong Kong, Taiwan, Thailand, Malaysia, Indonesia, Philippines, United Kingdom, Ireland, Canada and so forth, be it the blockbuster movies, TV series, documents, or anime series.
Netflix is now available in more than 190 countries and due to the copyright issue, each country and region has its own content library. Not only Netflix, but also most other international streaming services including Disney+, Amazon Prime Video and HBO Go, adopt the same strategy still. Consequently, once anyone wants to watch the library aboard, either in or outside the Singapore, the only way out is to employ a IP switching tool to re-locate her-/him-self in the target area and go on further operation.
3. Best Singapore VPN Recommended, to Use Either in or Outside the Singapore
To begin with, you should know that there are three main ways to unblock normal website prohibition:
– changing the DNS manually or with related service
– using the proxy to switch the IP address automatically
– leveraging the VPN tool to alter IP address and encrypt everything tightly
What's the difference then? Although they all feature circumventing website blocking, they work in totally different ways.
* DNS changing way is actually redirecting users to a proxy server via s DNS server and tricking the end website that the users are from an eligible place.
* Proxy way just sends your web request to the proxy server first and then the target website, so that you seems to come from the place of the proxy server.
* VPN just builds a totally private network to transport everything via the locked tunneling hence no party else could crack it down, access, and collect them for various purposes.
Obviously, only the VPN approach offers encryption to safeguard your web identity, online behaviors and personal information via the VPN tunnel. So below the best VPN is recommended to help everyone obtain the highest level of internet privacy and security.
The VPN name we suggest you to use is PandaVPN. It has over 3000 servers around the world, covering over 160 countries and regions in total, among which Singapore, many Asia, European, American and so forth mainstream places are all included. That's to say, no matter you'd like to watch USA Netflix in Singapore, play India/Philibines-based (MLBB/pugb) games, bypass (WAN or nationwide) website filter, and enjoy more private communication and speech capability inside the nation, or simply go back to your home country online when going abroad for travel, business, study etc., or you need to access unblocked sites when going to China and alike censored areas, PandaVPN's server library can serve you well on all of these requirements. Plus they are completed with acceleration and the extra ultra-fast IPC ones, you can have a really lag-free internet connection freely.
PandaVPN also adopts first-tire OpenVPN & Shadowsocks as the protocols and the 256-bit ECC encryption tech to balance connection speed and encryption well. For those who care more about privacy breach, OpenVPN should be the first consideration.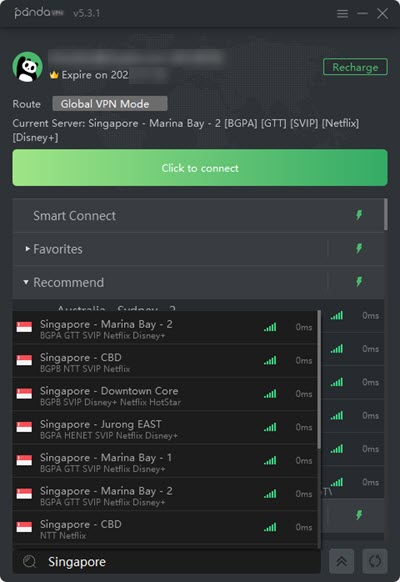 Available platforms: Windows, macOS, Linux, Android, iOS, and Android TV
Multiple connection: Y (3 devices are allowed to connect via the same account at the same time)
Based in: Seychelles (not a member of 5/9/14 eyes alliance countries)
FAQs You May Want to Know
1. Is there any other Singapore VPN to choose?
There are some other free or paid VPN or non-VPN tools you can choose from, like free PPTP/OpenVPN/Outline VPN accounts and proxy solution from VPNBOOK, (L2TP/PPTP/OPENVPN/Wireguard) VPN from other VPN vendors like ExpressVPN and NordVPN, proxy solutions, Go away MDA chrome extension (designed especially for bypassing MDA blocked websites) etc. However, since they are neither as fast & stable as, nor as affordable as PandaVPN, picking PandaVPN is truly a wise choice for both user experience and those with limited budget.
2. Free vs. Paid VPN for Singapore, which is better?
There's no doubt that paid VPNs are better than the freebies thanks to its ad-free workflow, more stable connection, wider server options, advanced features (e.g split tunneling) and 24-hour tech support. But if you really have no budget for a VPN, especially for a long-term one, you can firstly try some free VPN or proxy solutions to check whether they can meet your demand. If all fail, then you will have to pay for an expert (apk/exe/dmg/ipa) for help or quit halfway.
3. How to choose a 100% workable Singapore VPN?
The best way to judge whether a VPN is good or not is to test it for a period of time. You can test the free trial version if the developer provides it, or pay for a short-term plan to have a try. Before you open up your wallet, you can walk through the features, server locations, protocols, encryption method and refund policy for a complete understanding on this piece of VPN service.
In addition, the registration place also matters because if a VPN company is registered in one country from five/nine/fourteen-eye surveillance alliance, the user data and information are all shared within the alliance, you are unable to own an expected online privacy at all. (>> See 10 Must-Have Criteria for Beginners)
4. Is it legal to use VPN in Singapore?
Despite Singapore tends to take rougher stand on the internet world, currently no law is made to ban the usage of VPN. That said, using VPN inside the Singapore is legal. But the premise is that you only work with VPN for fair illegal purpose. Any anti-moral or -law actions would be censored or even lead you to be arrested, fined or sentenced by the police, say distributing or obtaining copyrighted/adult content and publishing false or harmful speech. (>> View the VPN legality issue in more countries)
Exercise your rights to privacy in digital age!
Get PandaVPN
7-day money-back guarantee