What Is OpenVPN? Everything to Know about the Next-gen VPN System
Vic Knott
2022.04.23
Knowledge Base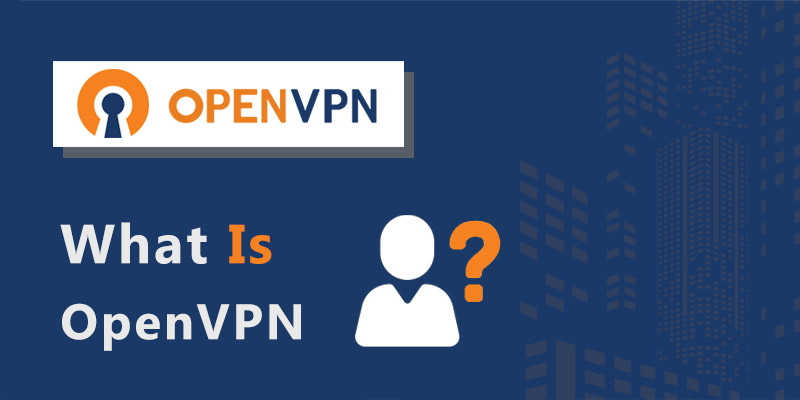 If you come across the term "OpenVPN" and have no idea about it, this OpenVPN explanation post will provide a quick overview of it, specifically on what it is, how it works, how secure/fast/private it is compared to other VPN protocols.
What Is OpenVPN?
For average users, the most possible opportunity to encounter OpenVPN is the time when using a (OpenVPN-available) VPN program or viewing content on cyber security and privacy.
OpenVPN, in most cases, simply refers to the VPN protocol that many best VPNs have added into their multi-protocol support. As the only open-sourced VPN protocol, OpenVPN doesn't lag itself behind thanks to the wide system compatibility and excellent performance. Beyond protocol, OpenVPN can still be taken as the reference of OpenVPN company or other OpenVPN developed services like OpenVPN Connect client app, OpenVPN Access Server, and OpenVPN Cloud.
OpenVPN Protocol: An open-source, highly configurable, and also the most widely used connection protocol among virtual private network facilities.
OpenVPN Connect: A cost-free and feature-packed VPN client that enables you to connect to your virtual private network.
OpenVPN Access Server: A highly flexible software VPN server that you can install on a private network.
OpenVPN Cloud: OpenVPN's next-gen networking solution that gives safe access to private business networks, without installing a server at all.

Considering most people search "OpenVPN" just for digging out information about the OpenVPN protocol, the following part will mainly focus on this VPN protocol.
How Does OpenVPN Protocol Work?
Like how other VPN protocols work, the OpenVPN protocol still builds an encrypted "tunnel" basically between the VPN client and the server end, to encrypt and secure the whole communication process in its own way.
Encryption & Authentication of OpenVPN
OpenVPN gains both encryption and authentication benefits from the OpenSSL, which is a dedicated software library developed to protect computer network communication and help it stay away from eavesdropping or so. OpenVPN still supports HMAC, a specific message authentication code/MAC type with, to endow another layer of security with its cryptographic hash capability and secret cryptographic key. In addition, the support for hardware acceleration and mbed TLS does boost the performance of OpenVPN to some degree.
Next, three authentication methods are offered by OpenVPN in total and they are pre-shared keys authentication, username-password-based authentication and certificate-based authentication, the first of which is only available for point-to-point VPN and the last of which is the most feature-rich. But they are both a little bit far away from us because what we often enjoy with a OpenVPN-enabled VPN is simply the username & password one.
For Newbies, Getting a Ready-made VPN Service is More Convennient
You can set OpenVPN up and configure it well on your machine at no cost. However, if you are not an experienced user of this kind of installing stuff, you may lose yourself in the information texts of official guide. Hence seeking help from a slick OpenVPN-embedded VPN program is much more convenient.
PandaVPN is such a reliable virtual private network service which supports OpenVPN protocol perfectly. Beyond that, it's also preloaded with shadowsocks and will soon support WireGuard to help bypass various firewalls and will soon add advanced Wireguard protocol in the coming months to deliver users worldwide more options for a successful, fast, and stable connection.
By locating 3000+ servers around 170+ locations across the world, no matter where you are, you can always pick a proper server to realize private browsing, firewall bypassing, and data encryption effortlessly. To use OpenVPN protocol, you just need to select OpenVPN Mode and related server.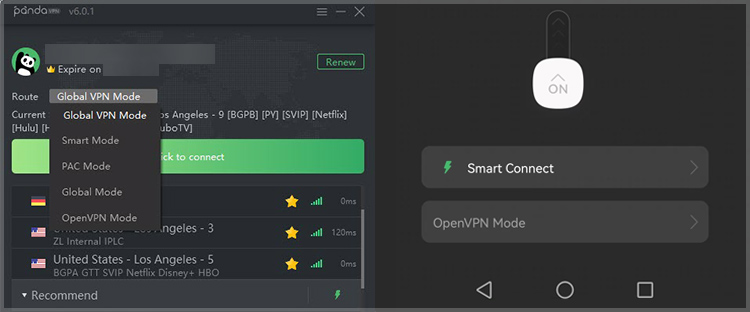 But note that not all servers support OpenVPN. For servers that don't support it currently, you will see "OpenVPN unavailable" reminder after connection.
UDP vs TCP OpenVPN, What's the Difference?
To transmit data online, transport layer protocol is a must-have. Here OpenVPN uses User Datagram Protocol/UDP (1194 port) to transmit data by default and can also run over Transmission Control Protocol/TCP (443 port) transports. The reason why UDP becomes the top choice lies in that OpenVPN performs best over it.
Briefly speaking, TCP mode has better stability thanks to its packets-delivery-first policy but slower speed alongside due to this policy plus higher encryption approach. Since the TCP-based tunnel runs on 80/443 port, it's hard to be blocked. Consequently, this kind of VPN tunnel is relied on by many people to bypass various firewalls. But you must be informed that only when your bandwidth is enough can your online behavior be conducted normally. That's because if there's no sufficient bandwidth for un-tunneled links, the tunneled TCP timers would expire.
On the contrary, UDP mode delivers faster connection speed while less reliable stability since it lacks the error correction capability just like TCP. Obviously, if you are going to stream HD/4K video or download something online, TCP OpenVPN is better than UDP OpenVPN.
OpenVPN protocol now works well with new IPv6, most proxy servers and circumvent NAT (network address translation) with ease.
OpenVPN vs. Other VPN Protocols, What's the Difference?
Unlike most VPN protocols, OpenVPN is open-source. That means its code isn't owned by just one entity, and all third parties can always inspect it and continuously improve it. Until now, OpenVPN has become the most popular VPN protocol indeed. Since you may wonder why it's so widely used by the top-ranked VPN providers and is it really better than the left protocols, some easy comparisons are made below to figure the possible doubts out.

– OpenVPN vs. PPTP: PPTP is an older VPN protocol and does support multiple PC, mobile and tablet platforms including iOS. It offers quite basic security while fast speed and stable connection at the same time. So for those who care more about online security, selecting safer OpenVPN is a wise choice. Also, PPTV works great on portable phones and tabs while OpenVPN favors Windows, macOS and Linux desktop more.
– OpenVPN vs. IPSec: IPSec VPN connection is still faster than OpenVPN one. Although it owns a higher security level than PPTP because it fixed PPTP's known weaknesses on security, OpenVPN doesn't lag behind for the strong enough encryption. With the correct setup, IPSec will be with strong encryption and protection, but it's easier than OpenVPN to be recognized and blocked by ISP. Since OpenVPN needs an extra software client, IPSec, which usually requires no software, seems more suitable for non-experts. As to VPN type support, OpenVPN works with site-to-site tunnels while IPSec has better server-to-server performance.
– OpenVPN vs. L2TP: L2TP, developed jointly by Microsoft and Cisco in 1999, is also one of the first batch of VPN tunneling protocols. It's not as secure or efficient as OpenVPN, and still not so good at bypassing firewalls. Nevertheless, if OpenVPN is here, you'd better stick with OpenVPN. And to increase the L2TP's ability to safeguard data, it's often paired with IPSec to leverage both 256-bit and 3DES algorithms and make both TCP (1701) and UDP (500) port available.
– OpenVPN vs. IKev2: IKev2 often cooperates with IPSec to provide users with a well-balanced VPN experience. When comparing IKev2 with OpenVPN alone, they have similar protection level and both deliver fast speed when the hardware does support encryption acceleration. If your hardware is not competent for acceleration, IKev2 performs faster than OpenVPN, including the relatively faster OpenVPN UDP. Stability then, IKev2 may surpass OpenVPN on phones and tablets.
– OpenVPN vs. WireGuard: WireGuard is a new VPN protocol star in recent years and it can be your top protocol choice anytime if the VPN has already added it into its protocol support. WireGuard runs faster than OpenVPN and generates reliable still encryption and security. Although the platform compatibility of WireGuard is not as wide as OpenVPN, the big impression and bright future are right here, with no suspense.
Exercise your rights to privacy in digital age!
Get PandaVPN
7-day money-back guarantee