What's the Best VPN Protocol for Streaming, Gaming and Other Activities
Vic Knott
2021.09.06
Knowledge Base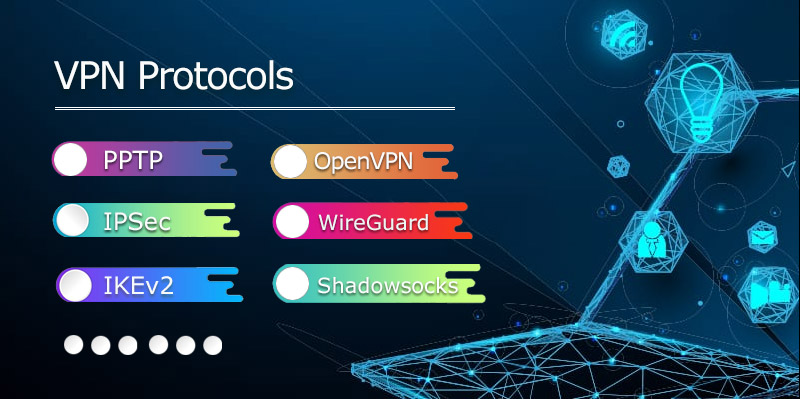 When you choose a VPN service, VPN protocol support will more or less determine your final choice. When you are using a VPN service, VPN protocol will directly influence your user experience regarding speed, privacy, security, and stability. Therefore, you will benefit a lot after knowing better about those VPN protocols.
VPN/Virtual Private Network service is an uber-popular way for modern people to maintain online anonymity and security. At the same time, since it works by establishing a protected internet connection to hide the real and use another new IP address, anyone region-restricted online resources can be accessed easily.
What Is VPN Protocol? Why Does It Matter?
To understand the meaning and function of VPN protocol, let's firstly take a look at what's the network protocol.
"A network protocol is an established set of rules that determine how data is transmitted between different devices in the same network."
Accordingly, a VPN protocol is such a set of rules that decide how data is sent over the virtual private network, from the VPN client of local device to network access server of VPN provider then to target internet address and vice versa. During the whole process, all data is transmitted through the tunnel called "VPN tunnel".
Protocol means a lot to a VPN because it not only determines how data is routed but also the data encryption standard. Different protocols surely have different specifications and prioritize different things, be it privacy, speed or security.
10 VPN Protocols You Will Probably Encounter
Now several VPN protocols that are still in usage will be explained at length. After you get clear on them all, including each one's pros and cons, in your future VPN usage, you will know exactly what VPN protocol to pick to guarantee either streaming speed or online security.
1. PPTP
PPTP stands for Point-to-Point Tunneling Protocol. This VPN protocol uses TCP and GRE together to finish the PPP packets' encapsulation and transmission. As a frontier tunneling protocol developed jointly by Microsoft, 3Com etc., and published in 1999, it has no born security functionality but only by relying on the Point-to-Point Protocol to implement both encryption and authentication functions. Also, MPPE and IPSec could be applied to improve its security level, PAP/CHAP/MS-CHAP v1/ MS-CHAP v2/EAP applied to conduct authentication.
On account of this easy-to-crack encryption approach, PPTP is not recommended for online actions with sensitive and important info. However, every coin has two sides. PPTS's poor encryption contributes to the fastest speed ever.
2. IPSec
IPSec/Internet Protocol Security is not a single VPN protocol, but an Internet Engineering Task Force (IETF) standard network protocol stack or say suite to offer secure encrypted internet communication. The protocol family mainly includes security protocol AH (Authentication Header), ESP (Encapsulating Security Payload), and SA (Security Association). They work together to authenticate the source and lock IP packets, setting up a protected connection.
IPSec is able to work independently as a protocol of VPN service. More often, we see the combination usage of IPSec plus L2TP or IKEv2.
3. L2TP/IPSec
L2TP/Layer 2 Tunneling Protocol is made to be the successor of PPTP. Even so, it soon becomes an outdated tunneling protocol for there's no encryption at all. To increase the security level, IPSec is usually implemented alongside to add encryption. That makes this protocol group work relatively slower than any single protocol such as OpenVPN.
L2TP over IPsec is easy to set up. But since it's not so capable of bypassing firewalls, when you want to unlock any internet filter in a certain area, L2TP/IPSec is not the first choice. Well-known NordVPN has already discontinued the support of PPTP and L2TP in late 2018.
4. IKEv2/IPsec
Internet Key Exchange version 2, is a part of the above-mentioned IPsec protocol suite. The unique MOBIKE feature ensures the stability of the VPN connection because it won't be influenced by any possible network change. As the newest version of IKE (developed by MS and Cisco jointly), this VPN encryption protocol often shields traffic by creating security association/SA between VPN client and VPN server within the IPSec authentication suite. Therefore, together, there comes the term IKEv2/IPsec.
There's not merely safety, but also rapid connection. Therefore, many VPN apps have already been leveraged and more VPNs are estimated to utilize this protocol to deliver fast and private web browsing.
5. SSTP
SSTP is short for Secure Socket Tunneling Protocol. By transmitting the PPP traffic via SSL/TLS, this VPN protocol delivers transport-level security. Also, the support of TCP port 443 (default and changeable) helps move traffic through most firewalls and proxies successfully. It's widely regarded as a more Windows-friendly protocol due to the nature of a Microsoft proprietary protocol, it's still available for Mac and Linux.
Being a protocol of Microsoft, compared to open-sourced ones like OpenVPN, SSTP rejects any independent audit. What's more, this IP-over-TCP tunnel tends to be burdened by possible TCP meltdown error, and only when the bandwidth is adequate enough can SSTP contribute lighting speed.
6. OpenVPN TCP
OpenVPN is an open-source, cross-platform, and also the most frequently used VPN encryption protocol currently. It employs SSL/TLS of OpenSSL encryption library for key exchange so that either point-to-point or site-to-site connection is safeguarded tightly. And it transmits data by splitting it into small packets.
OpenVPN accepts two kinds of tunnels – TCP (Transmission Control Protocol) and UDP (User Datagram Protocol). Both of them offer superb security and privacy.
Here OpenVPN TCP certainly refers to the one running over TCP tunnel transports, with all packets delivered in a sequence. Compared to UDP that delivers packets in a stream, it owns slower speed (lags happen when the internet connection is not stable) yet higher encryption manner, better reliability, and is able to circumvent very tough firewalls, being really hard to be detected and blocked thanks to the for example 443 port, which sends data online like SSL traffic, not VPN one. In other words, it's more suitable for daily online acts like web browsing, shopping, file sending, and emailing.
See Also: Is Online Shopping Safe? 10 Tips to Shop Online Safely >
OpenVPN TCP can only work normally as the bandwidth is sufficient. If not, the known TCP meltdown problem would appear unexpectedly.
7. OpenVPN UDP
If you need a VPN service to unlock/accelerate online games, streaming live sports, HD movies and TVs, live chatting/meeting, or P2P torrent downloading, OpenVPN UDP is a great choice as it generates a much faster speed than TCP while still offering excellent security and anonymity. That's why many VPNs set OpenVPN UDP as the default configuration to deliver a better user experience to users.
There's no conclusion about OpenVPN UPD vs. OpenVPN TCP, which is superior to the other. The best always should boil down to what you need most.
8. WireGuard
WireGuard is a communication and free encrypted VPN protocol. As an open-source VPN protocol, it's developed to outmatch popular IKEv2/IPsec and OpenVPN in performance, simplicity and power-saving and thus many people claim it as the future of VPN protocols. Actually, the real tests have already proved WireGuard (that uses UDP) is truly faster than both OpenVPN TCP and UDP, with lower ping value and latency.
Unlike other general protocols which have interminable and complicated encryption, WireGuard just reassembles those off-the-peg algorithms to achieve a simpler but still secure encryption goal. Specifically, its cutting-edge cryptography usage including Noise protocol framework, ChaCha20, Curve25519, and so forth.
Initially released for Linux, it has now turned into a multi-platform available on Windows, macOS, iOS, Android etc. Nonetheless, it's still in development, which means certain security risks are inevitable.
9. Lightway (from ExpressVPN only)
To build up its own VPN protocol for a lighter, easier, faster, safer, and more reliable VPN connection, the industry-leading VPN provider Express works out Lightway to maximize its user experience. It's really "light" because there are only about 1,000 lines of code – OpenVPN has 70,000 lines of code and WireGuard 4,000.
As for cryptography, it utilizes wolfSSL (an embedded SSL/TLS library) to provide secure communication. The protection is always on regardless of any network alter, churn, or failure. According to the official statement, this first-class VPN protocol will open its core library to be more transparent and for performing further security audits.
10. Shadowsocks (to some degree)
Shadowsocks is an encryption protocol, cost-free and also open-source. You may merely see this protocol because it's a dedicated Socks5-based proxy protocol project mainly applied in China to avoid government's internet censorship from Great Firewall / GFW. (>>See what's SOCKS5 proxy)
Note: Strictly speaking, Shadowsocks is not an "academic VPN protocol", but a proxy protocol designed to serve Chinese or other users who'd love to crack the GFW. There are several other names such as V2Ray and Trojan. Such proxy protocols are less secure than VPN protocols since they may leak your IP address and further crucial information. (>> see what is proxy)
VPN Protocols Comparison
These are the 10 most commonly seen VPN-service-deployed protocols. To help you figure out their performance distinctions, a clear comparison table concerning speed, encryption, stability, top-online-activity-friendliness, and the platform is produced below.
| | | | | | |
| --- | --- | --- | --- | --- | --- |
| | Speed | Encryption/ Security | Stability | Streaming /Gaming /Torrenting | Platform |
| PPTP | ★★★★★ | ★✰✰✰✰ | ★★★✰✰ | ★✰✰✰✰ | Windows, macOS, Linux, iOS, Android, and FireOS |
| IPSec | ★★★✰✰ | ★★★★✰ | ★★★★✰ | ★★★✰✰ | Windows, Mac, iOS, and Android |
| L2TP/IPSec | ★★★✰✰ | ★★★★✰ | ★★★✰✰ | ★★★★★ | Windows, Mac, Linux, iOS, Android, and ChromeOS |
| IKEv2/IPsec | ★★★★★ | ★★★★✰ | ★★★★★ | ★★★★★ | Windows, Mac, Linux, iOS, Android, router, FreeBSD, etc. |
| SSTP | ★★★✰✰ | ★★★★✰ | ★★★★✰ | ★★★★✰ | Linux, BSD, and Windows |
| OpenVPN TCP | ★★★✰✰ | ★★★★★ | ★★★★★ | ★★★✰✰ | Windows, macOS, Android, iOS, Linux, BSD, Router |
| OpenVPN UDP | ★★★★✰ | ★★★★★ | ★★★★✰ | ★★★★✰ | Windows, macOS, Android, iOS, Linux, BSD, Router |
| WireGuard | ★★★★★ | ★★★★✰ | ★★★★★ | ★★★★★ | Windows, macOS, Linux, Android, iOS, Linux, Free/Net/OpenBSD |
| Lightway | ★★★★★ | ★★★★✰ | ★★★★★ | ★★★★★ | Android, iOS, Windows, macOS, and Linux |
| Shadowsocks (actually a proxy) | ★★★★✰ | ★★✰✰✰ | ★★★✰✰ | ★★★★✰ | Android, iOS, Linux, Mac OS X, Microsoft Windows, FreeBSD, DragonFly BSD |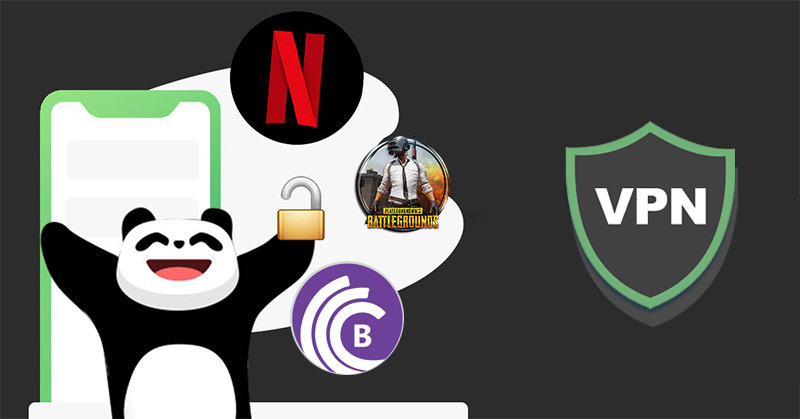 Conclusions reached from the comparison table:
Fastest VPN Protocols TOP 3: PPTP, Wireguard, IKEv2/IPsec
Most Secure VPN Protocols TOP 3: OpenVPN (TCP/UDP), Wireguard, SSTP
Best VPN Protocols for Gaming TOP 3: L2TP/IPSec, IKEv2/IPsec, WireGuard
Best VPN Protocols for Streaming TOP 3: OpenVPN UDP, L2TP/IPsec, PPTP
Best VPN Protocols for P2P Torrenting TOP 3: L2TP/IPSec, IKEv2/IPsec, OpenVPN UDP
These ranks are only made for reference and each VPN protocol's real performance would differ from VPNs, server configurations, and also the network conditions.
The last word of disclaimer: we don't advocate using VPNs for illegal copyright infringement or so, and you'd better check out the related laws in your country in case you are involved in any unanticipated case.
Exercise your rights to privacy in digital age!
Get PandaVPN
7-day money-back guarantee