Private Browser: Is It Better than Private/Incognito Mode of Browsers?
Vic Knott
2022.05.28
Online Privacy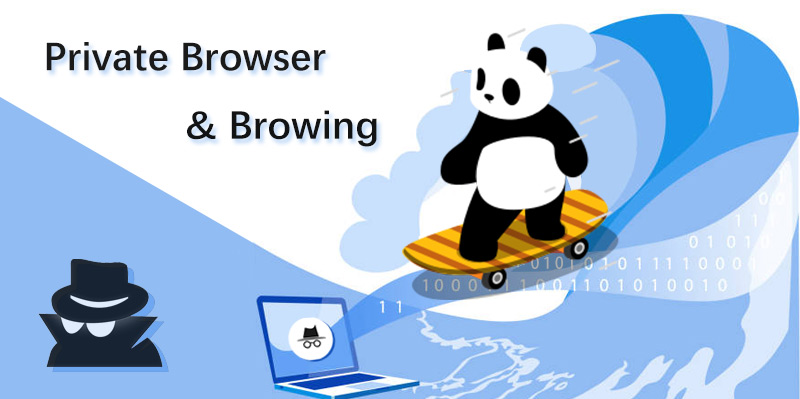 Living in such a digital world full of online surveillance and censorship, you just want to get them around with a private browser or other private browsing approaches, to be completely invisible on the web…
We have to admit that the invention of the internet has deepened people's connections all around the world greatly. With only a smart device and an internet connection, no matter where you are, what time it is, you can surf the web, talk to your family, join meetings with your coworkers, watch streaming videos, and access virtual cloud space as you prefer.
However, with the continuous development of Internet technology and an increasing number of netizens, the content pool becomes to be a "melting pot", plus the constantly-changing international political environment, inevitably, internet censorship & monitoring turns into a necessity for both behavior analysis, regulation, as well as further national security.
During this censoring process, as a common web surfer, your IP address is recognized, your activity route is kept, your sign-in account, cookies, and other information are all recorded as your online identity. And the data collection parties are still too many – the Internet Service Provider/ ISP, the government, the corporation, the network manager, the search engine, the advertiser, the website owner, and still the browser developer.
Sounds horrible, ah? Absolutely it is, especially when you are a senior privacy guardian.
To do private browsing, many choose to use the internal private mode of browsers.
More often, if a person wants to hide his or her online visiting history or so, the first choice that comes into his or her mind must be the private browsing feature of web browsers. Currently, all mainstream browsers have this kind of feature, despite the actual names are not varying. Below are some examples of top web browsers worldwide. And the market share data is transported from a known free stats service – statcounter.
| | | | |
| --- | --- | --- | --- |
| Browser name | Private Browsing Feature | Global market share | Operation System |
| Google Chrome | Incognito | 64.92% | Windows, macOS, Linux, iOS, Android, and Chrome OS |
| (Apple) Safari | Private Browsing | 18.77% | macOS, iOS, iPadOS, and Windows |
| Microsoft Edge | InPrivate Browsing | 3.56% | Windows, macOS, Android, iOS, and Linux |
| Mozilla Firefox | Private Browsing | 3.54% | Windows, macOS, Android, iOS, Linux etc. |
| Samsung Internet | Secret Mode | 3.06% | Android and Tizen |
| Opera | Private Mode | 2.17% | Windows, macOS, and Linux |
| UC Browser | Incognito | 1.36% | Android, iOS, iPadOS, Windows Phone/10 Mobile, Windows, Tizen, Fire OS, Linux, Chrome OS etc. |
As a general rule, when you open up the browser, at the top right or left corner, you can directly click the three-dot setting icon

to click the top-ranked option named as "New Incognito window", "New Private (Mode) window", "New InPrivate window" or similar. Also, you can check and remember the shortcuts of the browser's private browsing function and make the benefit of faster keyboard typing, such as Chrome defines the hotkeys for Windows Incognito as Ctrl+Shift+n and for Mac Incognito ⌘+Shift+n.

Does Private Browsing Really Make You Invisible Online?
Not exactly. No matter what browser you are using, what the private window is named if you are careful enough, you must find the Incognito/Private/InPrivate/Secret mode's details listed on the window. In short, they are mainly telling you about three things below:
– The in-built private browsing of the browser only doesn't save or say clears your browsing history, cache and cookies, and site data, form-entered informationand also the permission for accessing websites when you quit the window or app. Bookmarks, collections, and downloaded files are not included in the removal list. That said, they are still there even you exit private browsing.
– The removal of above-mentioned data only helps you hide Incognito/Private-mode-related activities from anyone who shares the same computer with you, in case he or she sees your visiting history and site data.
– Except those who use the same machine with you, all other parties like employer, school, ISP, search engine, and hacker are able to track you and collect your data as normal.
After finishing the three points, you may find you have a misconception about the protection level you gain from private browsing. Yes, it's not as powerful as the name suggests. That's why there are more services to level up online privacy, for instance, Private Browser, secure email, and Virtual Private Network, which is commonly known as VPN.
Private Browser – Top 5 Names You Must Know
1. Tor Browser
Supported platforms: Windows, macOS, Linux, and Android
Tor Browser is a popular open-sourced and cross-platform app launched primarily in 2008. As a member of the Tor Project, it is based on Onion routing tech and developed for people who want to stay safe and free online without any tracking and censorship at all. Simply put, Tor builds its own anonymizing network with piles of volunteer-operated servers (they call them Tor relays). Every time you send an internet visiting request with it, it routes traffic with randomly-picked servers for protection purposes so that no one else could crack it down and steal the data.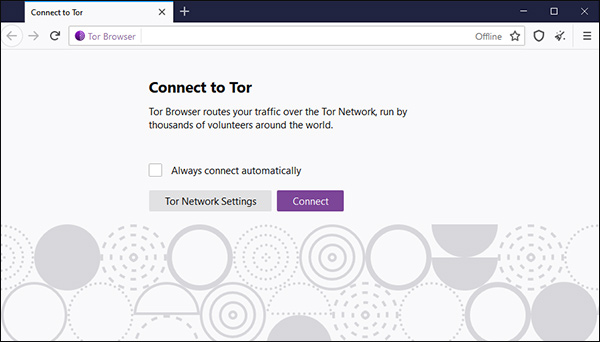 Thanks to the unique workflow and multi-layered encryption, Tor Browser is leveraged by both special workers (e.g journalist and whistleblower) and the general public who pursuit web anonymity. Nevertheless, it has its own shortcomings too, for example, its relatively slow speed, the blocking of browser plugins, and torrent-unfriendly nature.
2. Brave Browser
Supported platforms: Windows, macOS, Linux, iOS, and Android
Brave, based on Chromium, is another open-source privacy-focused yet fast browser. Many users take it as the replacement of Chrome just for its stellar embedded tool for blocking trackers and ads who are just the initiators of personal data grabbing and your identity exposing. Beyond that, there are options for all to enable safe HTTPS connection, to block cookies and fingerprinting at different levels. Also, Brave private browser's desktop versions have good support of Tor, offering another "New private windows with Tor" choice for users in demand.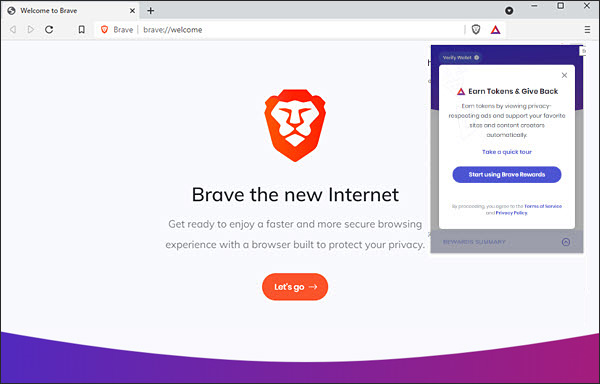 Another factor that attracts people to use it is its business model. By turning on its Brave Rewards and watching advertisements (with no traditional privacy concern) in one's own manner, anyone delivering the attention is able to earn tokens (called BAT) and then support your favorite premium content or so.
In late 2020 and early 2021, Brave has integrated news aggregator, IPFS (a peer-to-peer networking protocol) and added support for over 100,000 decentralized sites and blockchain domains in succession, upgrading its user experience to another large degree.
3. Avast Secure Browser
Supported platforms: Windows, macOS, iOS, and Android
Avast Secure Browser is a private browser product from the same-name antivirus software developer. With user's online privacy and security in mind, Avast is preloaded with Adblock functionality to block extra ads by default, strong anti-phishing tech to keep you away from dangerous content and materials, Password Manager to safeguard all login information, Band Mode to obtain a safer shopping and payment standard, and many other abilities and add-ons to empower all websites to encrypt data to avoid any third parties' collecting, selling and any other usage.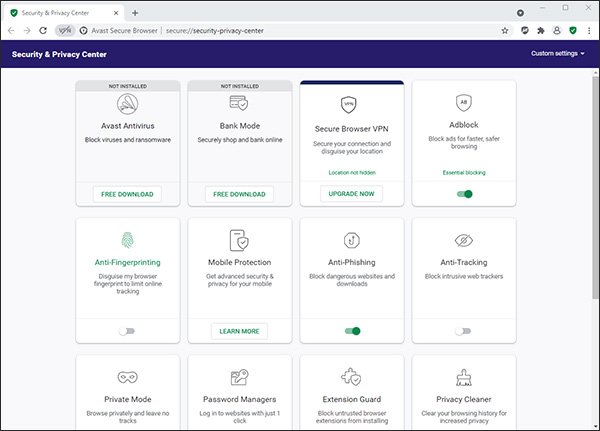 To meet more advanced anonymous and private browsing, Avast also integrates a piece of VPN service here to hide IP address and re-place the location to anyone supported by it (30+ locations available). Currently, Avast's Secure Browser VPN offers 7-day free trial. When it's over, you will have to pay for an upgrade, starting at $2.92/month.
4. DuckDuckGo Privacy Browser
Platform: iOS and Android (No PC version but extension version for Chrome browser)
We all know that DuckDuckGo is a solid private search engine. But besides SE, it also has a standalone mobile browser app that mainly focusing on Android and iOS based smart devices.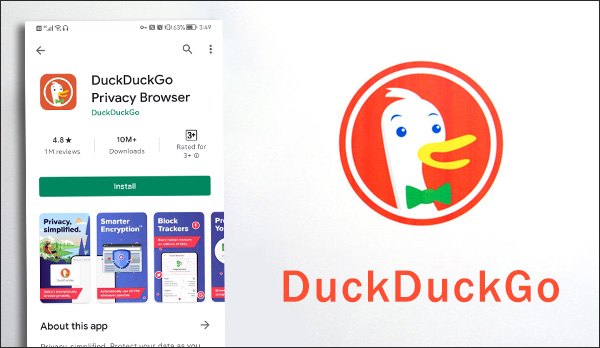 Specifically, it shows us how secure the target website is by providing an overall privacy grade. You can check whether the connection is encrypted, how many trackers are blocked, and the real privacy practice level. If the site's privacy is too poor to visit, simply turn on the Privacy Protection to enhance that by imparting reliable (HTTPS) encryption into the website forcibly.
5. Mozilla Firefox
Platform: Linux, macOS, Windows, iOS, Android, FreeBSD, OpenBSD, Solaris etc.
Mozilla is regarded as the most private browser among the more popular browser apps, especially when compared with Chrome and Safari in Google and Apple ecosystem respectively. Why? On one hand, it's an open-sourced program that has less aspiration on building its own digital empire for business, hence universally tracking users to collect data is not a must-do.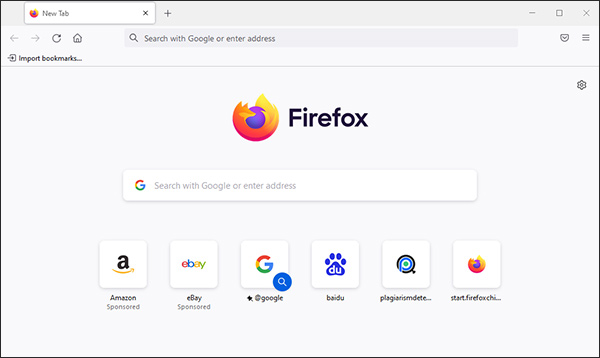 Under privacy & security settings, it gives users three choices for Enhanced Tracking Protection: Standard, Strict, and another Custom one, the latter of which empowers all of us to decide whether and how the cookies, tracking content, crypto miners, fingerpinters are blocked. Besides, users can tick to send sites a Do Not Track signal. What a surprising feature you can't imagine.
Firefox is another typical browser example to release VPN service. In July 2020, the official version came out. By adopting over 400 servers around 30 countries worldwide, any avid Firefox user could mask the real location and route traffic via a protected VPN tunnel.
Is Private Browser Reliable to Fully Protect Your Identity?
Not as reliable as you may think.
First, whether it really doesn't pick and stop others from accessing and acquiring your information depends on its internal work mode and your specific settings. If you allow cookies grabbing and ads tracker, perform Javascript, or do things similarly, even with a so-called private browser, you won't be shielded at all. Secondly, as long as you are online with a real IP address, do account sign-in, fill in key personal data, and accomplish normal payment, there are always spying eyes around to obtain your info, more or less. In other words, VPN is highly recommended for starting completely private browsing from a brand-new IP address and locked data transport.
You're Suggested to Have a VPN for Truely Private Browsing
We've mentioned some browser VPNs above. Generally speaking, they on averagely have less wide support of servers and locations. Therefore, it's wiser to turn to a dedicated VPN service like PandaVPN. It not only supplies 3000+ servers located in 73 countries and 127 locations, but the price is also more wallet-friendly than browser VPNs, starting at $2.49 per month.
Platforms: Windows, macOS, Android, iOS, Linux, and Android TV
Advanced Features: Multiple Protocols | 256-bit ECC Encryption | 0-log Policy | Split Tunneling | AdBlocker etc.
Exercise your rights to privacy in digital age!
Get PandaVPN
7-day money-back guarantee