15 Best Free Proxy Sites 2022: How to Use Free Web Proxy to Unblock Websites
Tony Bennett
2022.09.13
How-to Guides
Online Privacy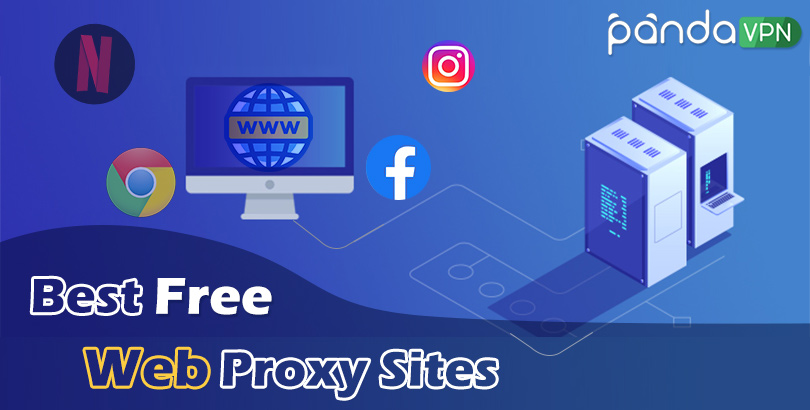 What is a web proxy? Web proxy is just a small part of the big proxy family. As the name suggests, it is a web-based online proxy service that connects your device to a proxy server over the internet.
As a result, you can browse websites anonymously, without compromising your IP address. Alternatively, what the websites you visit see is the IP address of the proxy server. Compared with a VPN, a web proxy site lacks an additional layer of encryption protection and works only with single websites.
Our article below will reveal more details on the VPN vs. web proxy result. Plus, we will offer the 15 best free proxy sites in 2022 and show you how to unblock web proxy in countries where it is blocked.
Which Is Better VPN or Web Proxy?
VPNs and web proxies offer Internet anonymity by hiding your IP address in a somewhat different way.
A web proxy acts as a gateway that performs to browse websites anonymously and circumvent content restrictions. Proxy browsers or proxy sites offer you proxy servers that excel at IP masking and switching. So, you can get rid of geographical restrictions and access blocked websites.
A VPN app reroutes your online traffic through VPN servers, and more importantly, it transfers your data through an encrypted tunnel. This means you can not only get around geo-blocking but protect yourself from ISP tracking and hacker attacks. While proxy sites, especially free online proxies, don't provide extra data encryption.
PandaVPN, based on ECC encryption, OpenVPN and WireGuard protocol, offers 3000+ servers in 170+ locations in 80+ countries of the world. It's worth a try. Android new users that download PandaVPN for the first time can get a 3-day free trial.
2 Steps to Use a Free Web Proxy to Unblock Websites
Here we take 4everproxy as an example to show you how to use a free online proxy to unblock websites.
Step 1. Enter the domain of the website you want to unblock.
Step 2. Select a web server and IP location.
Step 3. Press GO to start using the free online proxy.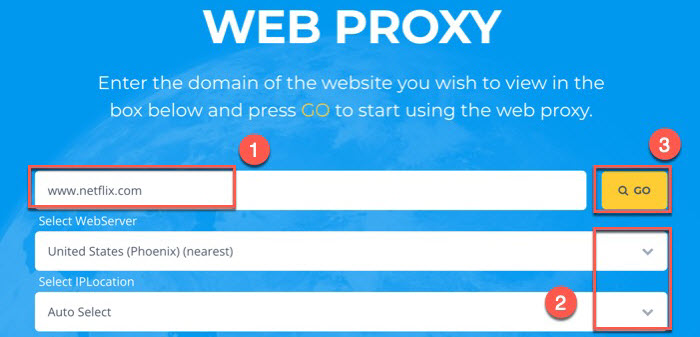 15 Best Free Proxy Sites 2022
Let's go back to the main topic of this article. Here we collect a list of the 15 best free proxy sites for you to open blocked sites.
1. 4everproxy
Free Proxy Site Address: https://www.4everproxy.com/proxy
Sign Up or Not: No
4everproxy is a completely free web proxy with no speed or file size limitations. You can use it to stream YouTube content and switch your Netflix region. Offer 11 server locations in 9 countries around the world, including the US, the UK, France, Poland, Germany, Luxembourg, Canada, and Australia. It also supports the selection of custom IPs from 20+ locations.
2. ProxFree
Free Proxy Service Address: https://www.proxfree.com/proxy/
Sign Up or Not: No

ProxFree is a free proxy site that enables you to bypass internet restrictions and access blocked websites. You can get 3 servers from 2 countries, including the US and the UK. It features changeable IP addresses from many locations worldwide, so you can change your IP location in an instant.
We tried to open the Netflix website, but couldn't unlock it. It worked with YouTube, but unfortunately, it was a bit slow.
3. CroxyProxy
Free Online Proxy Address: https://www.croxyproxy.com/
Sign Up or Not: No

CroxyProxy offers a free proxy service and supports any kind of site, including video hosting, search engine, social network, e-mail service, etc. You can browse your favorite resources like Facebook, Twitter, Google, and Gmail without restrictions and get Netflix, YouTube and Discord unblocked.
CroxyProxy also offers a premium web proxy that delivers an ad-free experience. You can pick faster servers without speed limitations, including servers in Germany, the UK, Finland, the USA, Canada, Israel, etc.
Based on your country, you might receive an error message such as "this website cannot be reached" when accessing CroxyProxy. If so, you can turn to its Chrome extension to use the proxy that way or either connect to a VPN like PandaVPN first to unblock it.
4. ProxySite
Free Online Proxy Address: https://www.proxysite.com/
Sign Up or Not: No

Proxysite is a free proxy site that is very friendly with social media websites including Facebook, Twitter, Reddit, Google+, Imgur, etc. YouTube is supported as well. Access to the Netflix web is not supported. It is very generous to provide more than 20 servers, mainly in the US and Europe.
5. Hidester Web Proxy
Free Proxy Site: https://hidester.com/proxy/
Sign Up or Not: No

Hidester is a free web proxy that allows you to access YouTube, Twitter, Facebook, Twitter, and Snapchat without geo-blocking and firewall filtering. The free servers of Hidester proxy are spread around the US and Europe and this helps you choose from a variety of available countries. The best part about this free online proxy is that it is ad-free.
6. Megaproxy
Free Online Proxy: https://www.megaproxy.com/freesurf/
Sign Up or Not: No
Megaproxy offers a free version with many restrictions. For example, you can only view up to 60 web pages/images in a 5-hour timeframe. Streaming media support is disabled, so you can't access streaming content or download movies. Loading of web pages like YouTube is very slow.
7. VPNBook Web Proxy
Free Online Proxy: https://www.vpnbook.com/webproxy
Sign Up or Not: No

VPNBook can be used as a YouTube proxy and a Facebook proxy. Surprisingly, the VPNBook free web proxy has support for the Netflix web and many other websites. You have multiple server locations including the US, the UK, Canada, and France to choose from.
8. KProxy
Free Web Proxy: https://www.kproxy.com/
Sign Up or Not: No

KProxy offers a free version with 10 public servers in different countries and allows you to hide the top menu, an option that is not available with any other proxy services. Support YouTube, but not Netflix.
KProxy also provides browser extensions available on Google Chrome, Firefox, and Microsoft Edges. You can also upgrade to its KProxy Pro for premium servers, unlimited downloads, and an ad-free experience.
9. Proxyium
Free Web Proxy: https://proxyium.com/
Sign Up or Not: No

Proxyium is the free web proxy offered by ProxyScape. It's a 100% free proxy site and supports websites like YouTube, Facebook, Twitter, Google, Netflix, and more. The best part is that Proxyium sets no download limit on file size and speed, so you download your favorite content as you please.
10. HideMyAss Free Proxy
Free Online Proxy: https://www.hidemyass.com/en-us/proxy
Sign Up or Not: No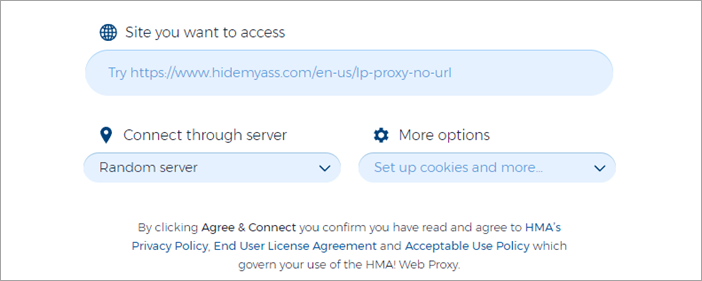 HideMyAss caters to both free and premium version to offer. The free web proxy version allows you to browse privately in 1 tab and provides 6 server locations in New York City (US), Seattle (US), Frankfurt (Germany), Netherlands (Amsterdam), London (UK), and Prague (Czech Republic). Support a large number of websites, including Netflix, YouTube, Google, Twitter, Facebook, etc.
11. Hide.me Free Proxy
Free Online Proxy: https://hide.me/en/proxy
Sign Up or Not: No

Hide.me free proxy service offers you 3 server locations to choose from, including Netherlands, Germany, and Finland. As a result, you can unblock any blocked website like YouTube and Netflix, not to mention other sites that are easier to unlock. Plus, it supports free proxy browser extensions on Google Chrome and Firefox.
12. Turbohide.org
Free Proxy Site Address: https://www.turbohide.org/
Sign Up or Not: No

Turbohide.org is another free web proxy that not only hides your IP address but also offers an SSL encryption feature for better privacy. However, it provides only 1 server located in Canada. Support Facebook, YouTube, Twitter, etc., excluding Netflix.
13. Zend2 Web Proxy
Free Proxy Service: https://zend2.com/
Sign Up or Not: No

Zend2 is a 100% free proxy site that enables you to access any websites that are blocked by government censorship, including YouTube, Facebook, Twitter, Snapchat, Instagram, eBay, etc. And Netflix is an exception. Also, it makes it possible for you to regain access to sites that are restricted by the website's owners using filter settings.
14. Whoer
Proxy Service Address: https://whoer.net/webproxy
Sign Up or Not: Yes

Whoer web proxy is not a web-based free online proxy. Instead, it's available as a browser extension that you need to add to your respective browser. It is available for Google Chrome, Opera, Mozilla, and Yandex browsers.
This proxy service requires you to register via email and it's not completely free. To gain access to the servers of 21 countries without speed limits, you need to upgrade to the premium version.
15. Smartproxy
Free Proxy Site: https://smartproxy.com/
Sign Up or Not: Yes
Smartproxy provides 195+ server locations for you to surf the web anonymously and get around geographical restrictions. Also, it has an extension of Google Chrome. To unblock websites and bypass internet restrictions with Smartproxy, you need to register/sign up via email. It's not completely free and offers a free trial version. The paid version is not cheap.
Why Are Some Free Proxy Sites Blocked?
Proxy services are blocked in some countries because they provide a way to access websites that are otherwise blocked. For example, a ban on all software and websites related to circumventing internet filtering, including web proxy, was passed in Russia in 2017.
Proxy websites are often used to get around network firewalls and web filters so that people can bypass censorship and access any website that they want. However, this behavior is prohibited in some countries.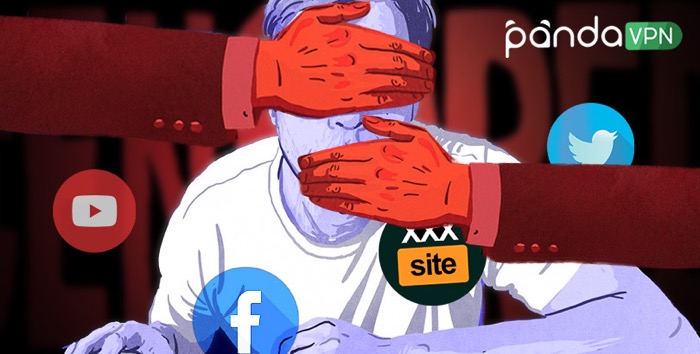 How to Unblock Proxy Sites?
How do I open free proxy sites if they are blocked in my country? You can try the tips below.
1. Switch to Another Free Proxy Site
There are many alternative free web proxies. If you find the free online proxy you use most often fails to work, try to use another proxy service.
2. Use a VPN as an Alternative
A VPN works as more than an IP changer, and more importantly, it adds an extra layer of encryption to your online traffic. For example, PandaVPN uses ECC encryption to encrypt your network connection. On top of that, it features WireGuard and OpenVPN protocol to make sure a fast speed for your web browsing, live sports streaming, etc.
Plus, VPNs don't just work on the website. By connecting to a VPN, you can download popular (encrypted) messaging apps to chat on your phone, as well as watch YouTube or TikTok videos and share recent insights via Instagram.
If you're looking for a free VPN, don't consider VPNs that claim to be completely free. Choose the free VPN plan offered by premium VPN providers as an alternative. There are traffic caps, speed limits, or server restrictions, but at least you are guaranteed security.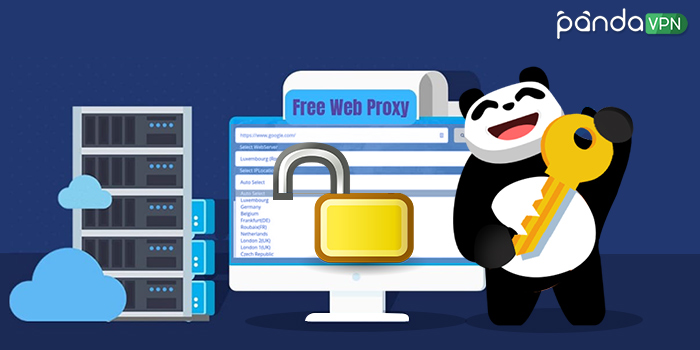 FAQs about Free Web Proxy
Q: Is a free web proxy legal?
It depends. Here we take the US Netflix as an example. If you want to access your favorite shows/series that you have paid the license fee from outside of the United States, it would be legal to use a web proxy or VPN to change your IP address of the place of your business trip back to the US.
However, using free proxy services to access content that is only available to the US audiences who pay license fees would break the terms and conditions of Netflix US. So, before you use a proxy browser or VPN to stream content that has been blocked in your geo-location, please carefully read Netflix's terms and conditions.
Q: Are free proxy sites safe?
Free online proxy sites do not encrypt your traffic, which means that your data can be intercepted and read by third parties.
Q: What are the best proxy sites for video streaming?
Free proxy sites including 4everproxy, ProxFree, CroxyProxy, Proxysite, Hidester, VPNBook Proxy, KProxy, Proxyium, HideMyAss free proxy, Hide.me free proxy, Turbohide.org, and Zend2 all support YouTube.
Web proxies including 4everproxy, CroxyProxy, VPNBook Proxy, KProxy, Proxyium, HideMyAss free proxy, Hide.me free proxy, Turbohide.org, and Zend2 even allow you to unblock the Netflix web.
Exercise your rights to privacy in digital age!
Get PandaVPN
7-day money-back guarantee