Web Content Filter(ing): What Is It? How It Works? Is It Possible to Bypass the Blocks?
Vic Knott
2022.03.21
Online Privacy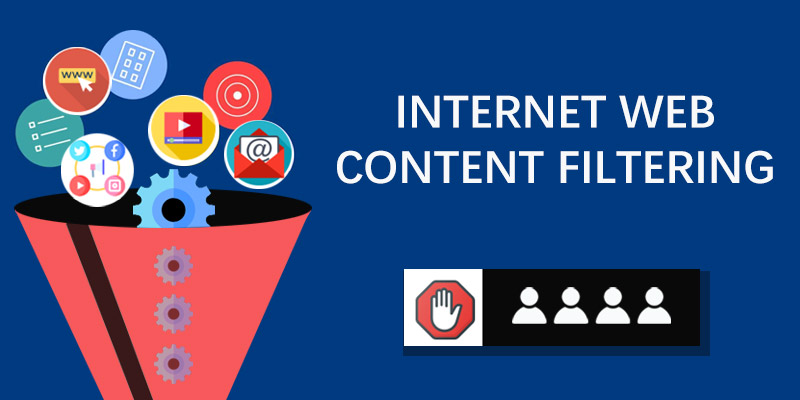 In this digital age, all parties are trying to control what the Internet users can & cannot see via the Internet filter software while the people involved are still looking for workarounds to bypass the content filtering.
The Internet was primarily quite open, but with its continuous revolution and the growing popularity on the earth, more governments started to use Internet censorship to limit domestic citizens' web access, by authorities or the Internet Service Providers/ISPs. This kind of censorship also occurs in many other places similarly to help people achieve various goals, such as employers leverage the content filter to have employees stay focused on work and increase the efficiency, schools and libraries install Internet filtering software to stop students and visitors from visiting improper or harmful materials, parents adopt dedicated parental control apps to narrow down what their children are able to enter into and how long the screen time lasts for a better habit, even a portion of individuals do deploy the web filter for themselves to help fight with content addictions.
Then what's Internet content filtering? How do different web filtering measures happen? For common customers, how to implement content filters to the target users or how to get around the websites/apps blocking & filtering? Do keep reading, this post will go over all of them thoroughly.
1. Definition of Internet Content Filter / Filtering
Since there are multiple different items regarding content filtering, let's represent them one by one first.
The Internet filter is a generic term that refers to software aiming to help people take control of Internet users' access to websites, web-based applications, email, and so forth.
Content filtering usually means the process to manage and screen certain websites or emails off, mainly for keep users away from risky, harmful, illegal or inappropriate content. That said, it's somewhat similar with Internet filtering.
In short, "xx filter" often indicates the tool to conduct specific filtering while "xx filtering" is the way how that tool works.
2. How Different Internet Filters Work to Make Content Filtering Happen?
Specifically, there are multiple types of Internet filtering (& software) according to the filtering target and different Classification standards, for example:
– Web filtering to screen websites only via Web or URL filter.
– Emailing filtering to screen email through the email filter.
– Executable filtering to stop certain executable files.
– DNS Filter to block unwanted content on the DNS side.
– Browser filter to work within a browser app.
– Server-based filters check and perform content filtering in server side.
– Client-based filters need to be installed on device like an independent app to take further management.
– Search engine filters are those designed directly by the SE service provider and embedded in the search engine, e.g. the Google's SafeSearch Filters. When it's turned on, explicit content like pornography and alike will be remove from search results.
…
As mentioned above, there are different kinds of Internet filter programs. Now some technical details are shared to let the newbies understand how content filtering is done in varying ways.
• A website can be filtered and banned for further access by adding its URL to the blacklisting/block list, excluding it in the whitelisting/allowed list, or setting the category (e.g pornography, streaming, torrent, eCommerce, social media, and any illegal one) as target content for filtering.
• The mechanisms within content filters are able to make the filtering goal as any specific phrases, words, applications, text strings, image objects, file types, (inbound) IP addresses/domains/DNS servers, etc.
• Software-, hardware- and also cloud-based content filtering solutions are offered now. Network administrators are able to set the filter up directly on the firewall/server/router side, download and install proper web filter service on the target device's system, the browser, turn on the filter function on the search engine, use a cloud filtering system, or pay for a physical appliance to integrate it with network infrastructure for ruling the traffic. As to which is better, it depends on your web filtering demands and budget.
• If any single content filtering approach doesn't meet one's requirement, people usually combine two or more ways to achieve a desirable web filtering effect.
3. Is Web Content Filtering Necessary?
Surely it is.
As a matter of fact, content filtering is just a part of modern internet censorship. Although it limits certain people's online actions to a large degree, especially in heavily-censored countries and public network environments like libraries, schools, and corporations, we have to admit its critical importance for either cybersecurity or web behavior regulation purposes.
If the authorities or network administrators don't take action on web access and just let it be as it's, we can't even imagine how many smart devices would be infected with harmful extra, how many data breaches would come out, how many netizens and teenagers would become the victims of inappropriate, immoral, offensive and even criminal content.
Beyond that, a decent internet filter can greatly help employees and children to form a good working or web browsing habit and improve working/learning productivity. From the bandwidth management point of view, when there are too many streaming and other big file download requests in a corporate network, it must influence the connection speed of many workers for normal web usage.
4. Can I Bypass Content Filtering and Access Blocked Content Normally?
You can. But you should think twice before taking the steps. If you only do this occasionally and won't affect your work or learning, it's not a big deal. However, if your filtering removing action violates the rules of your company/college/library or even causes data or financial loss, you will probably bear corresponding legal consequences.
Where there's a restriction, there's a countermeasure. So does stopping various web filters. To circumvent the access barrier, you have several ways to go: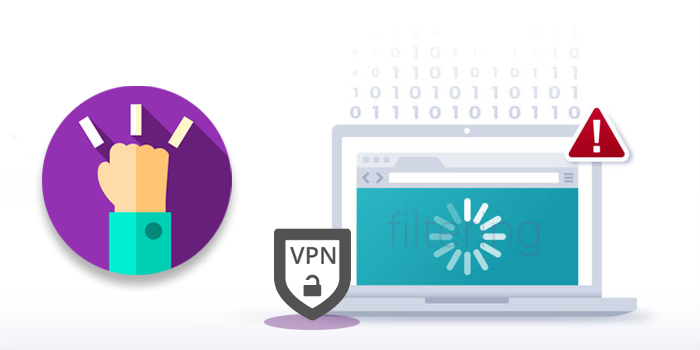 ✓ Leverage VPN to re-direct the traffic via another server, with all traffic and data encrypted [RECOMMENDED]
✓ Use a proxyto visit the restricted content via another IP address, but the traffic & data is not protected
✓ Employ the encrypted SSH tunnel to escape range limit of websites by creating a SOCKS proxy
✓ Change internet protocollike from HTTP to HTTPS or FTP
✓ Utilize DNS-altering toollike OpenDNS and Public DNS to beat the filters with another DNS server
✓ Access the blocked content with Tor private browser
Since getting around content filtering with VPN is the easiest method among all options, here to help you understand it better, we just set how PandaVPN dodges internet filtering as the demonstration.
PandaVPN is a simple, fast and safe VPN program that's available for mainstream computer and mobile devices. With it, you can switch your apparent location and be somewhere else out of the range of current content filtering. Now please get it first and then continue the steps as below.
STEP 1. Download, install and sign in PandaVPN with a random digital account.
STEP 2. When you want to enter into a blocked web page or use a filtered internet service, just launch PandaVPN to move on.
STEP 3. Pick a server location as you like and double click it or press the button to connect to the server immediately.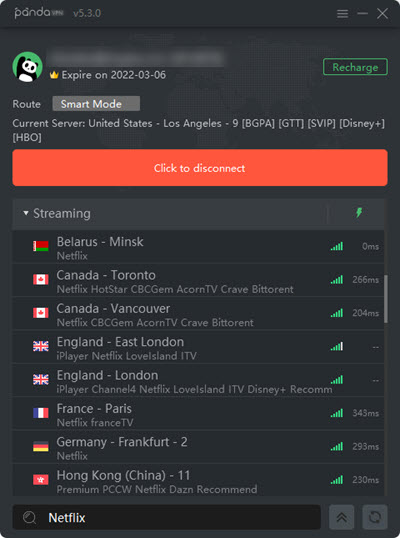 Note: VPN connection may be a little bit slower than the general speed due to the extra layer of data encryption, so you are suggested to choose a server near your physical location. If the
VPN fails to connect or remove the content filtering, try some other server options instead. PandaVPN has dedicated servers for gaming, streaming, BitTorrent, and social media respectively.
Read more: How to Bypass Geo-blocking, 15 Most & Least Censored Countries Worldwide
Exercise your rights to privacy in digital age!
Get PandaVPN
7-day money-back guarantee