8 Best VPNs for Thailand with Thailand IP Addresses
Tony Bennett
2022.09.07
Articles & News
VPN App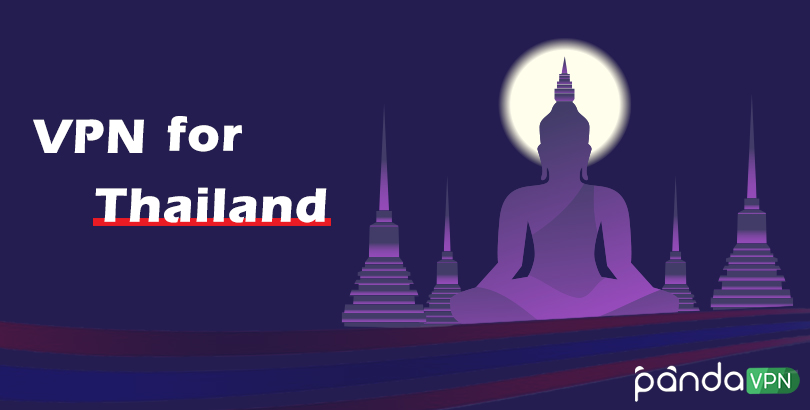 Thailand is a world-famous travel destination. For tourists planning to travel to Thailand, a VPN is a must-have item that must be packed into the suitcase. Only by connecting to a VPN will it be possible for you to access the Netflix episodes you watch as usual.
Although Thailand also has a Netflix library, it's different from the one in your home country. This is a result of content copyright and geographic restrictions. A VPN can change your Netlfix location so that you can access Netflix and other online services like you are at home.
If you're a Thai abroad and want to watch Thai dramas or access your bank account in Thailand, similarly, you will need a VPN to connect to Thailand. In this article, we want to share with you several good-to-use Thailand VPNs with Thailand IP addresses.
Best 8 Thailand VPNs with Thai IP Address
If you are looking for a VPN for Thailand, you have the following options. All come with VPN servers in Thailand. That means whichever one you choose, you can get one or two Thailand IP addresses. But they have different prices and offer various functions.
Check out our comparisons for these VPNs below, and you'll have your final decision:
Note:
1) PandaVPN for Android offers a free trial for 3 days without payment in advance, while the 7-day free trial of PandaVPN for iOS requires your subscription first.
2) The free VPN trial of Surfshark, Hotspot Shield and PrivateVPN requires you to pay in advance.
3) CyberGhost and Hotspot Shield host VPN servers in Mainland China, which might be a red flag for many people.
4) Hotspot Shield has a free VPN version, but it only offers 1 server in the US and sets a 500MB daily data limit.
5) PrivateVPN is headquartered in Sweden that is a member of the 14 Eyes Alliance.
6) Hotspot Shield is a VPN company based out of California, USA. See: 5, 9 & 14 Eyes >
In conclusion, PandaVPN is quite cost-effective. More importantly, it gives you a 3-day free trial on your Android devices without payment in advance. New users will get a free 3-day trial account with their first download.
Is There Internet Censorship in Thailand?
Is there anything other than geo-restrictions that make a VPN for Thailand necessary? Let's explore Internet censorship in Thailand together.
Unlike China's Great Firewall, which censors all Internet traffic, censorship of the Internet in Thailand is for website access only. Conducted by the Royal Thai Police, the Communications Authority of Thailand, and the Ministry of Information and Communication Technology (MICT), ISPs block websites through caches, blacklisted domain names, or IP addresses.
Pornography is illegal in Thailand, so most Internet censorship in Thailand is focused on blocking pornographic websites. For example, 60% of 34,311 websites that were blocked before the September 2006 military coup d'état were porn sites.
Except for this, the main three government agencies also block the content on Facebook, YouTube, etc., that harms the country's national security, which includes criticisms of the king, government, or military. Gambling is not legal in Thailand, so gambling sites are also blocked in Thailand.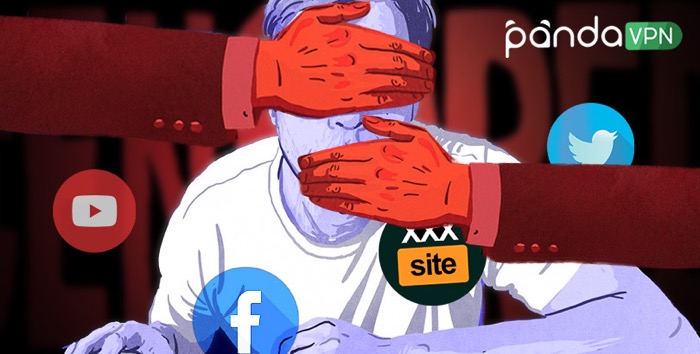 Does Thailand Allow VPN?
Yes, VPNs are allowed in Thailand. However, anonymous proxy servers that work similarly to a VPN are included on the blacklist. Thailand blocks proxy servers that can circumvent web blocking and give access to Internet gambling sites.
Although the use of VPNs is legal in Thailand, we don't encourage you to do any illegal acts on the internet. You'd better not visit porn or gambling sites when you are in Thailand, or start/join in discussions about the Thai royal family, the government, and the military, both online and offline. Unblocking Netflix is OK.
3 Steps to Unblock US Netflix with a Thai VPN
Take PandaVPN, one of the best VPNs for Thailand, as an example, and we'll show you how to unblock the US Netflix in Thailand.
Step 1: Download and Install PandaVPN.
PandaVPN offers Android users a free trial for 3 days. Download PandaVPN for Android (This page offers Thailand VPN Apk download), and Android new users will get a trial account for free. Open PandaVPN, set a password, and log in to your account.
Note:
1) PandaVPN downloading page also offers VPN for Thailand iOS download, Thailand VPN for PC download, and Thai VPN for Mac/Linux/Android TV download.
2) For Apple new users, you have a free trial for 7 days. But note that as with most VPN providers, you need to subscribe to PandaVPN for iOS and pay for the trial first. At any time within 7 days, you can cancel the subscription and a refund will be back to your payment account. The trial continues after the subscription is canceled.
Step 2: Connect to a US Server.
Enter PandaVPN's server list and connect to a US server. As you can see below, PandaVPN provides 20+ servers in different places in the United States.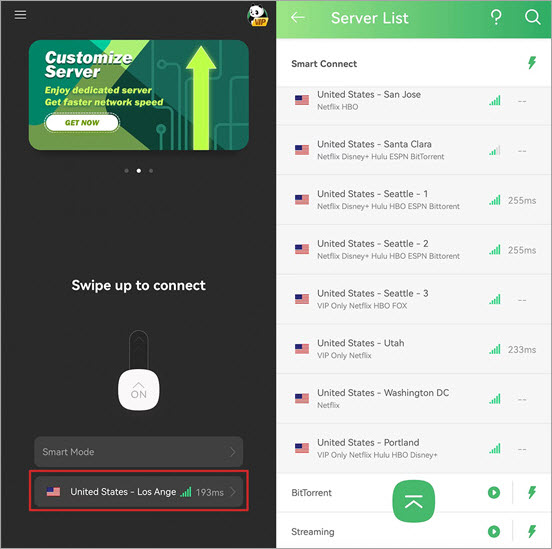 Step 3: Open Netflix and Enjoy US Netflix.
Now enter the Netflix web or open your Netflix app, log in to your account, and watch your favorite Netflix episodes or shows as you like.
2 Steps to Get a Thailand IP Address
If you are not in Thailand and want to use a Thai VPN to connect to Thailand, check the following steps.
Step 1: Search for the VPN Server in Thailand.
PandaVPN allows you to quickly search for the servers you want. Open PandaVPN, enter the server list, click the search icon, and search for "Thailand" to find a VPN server in Thailand.
Step 2: Change your IP Address to Thailand.
Click and connect to the Thai VPN server, and you'll get a Thailand IP address. Then you can access your Thailand bank account from abroad or watch Thai dramas or movies you like.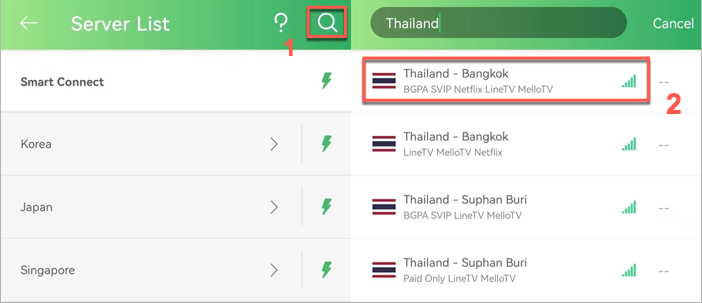 FAQs about Thailand VPN
Q: Which VPN has a Thailand server?
VPNs we recommend in this article all offer VPN servers in Thailand. PandaVPN has 4 Thai servers for you to change to a Thailand IP address. More importantly, it offers a 3-day free trial without payment in advance.
Q: Which VPN has Thailand server free?
We tested many free VPNs and free VPN versions offered by some paid VPNs and we failed to find a free Thailand VPN that has VPN servers in Thailand.
Q: Do I need a VPN for Thailand?
Yes, you will need a VPN when you're traveling in Thailand. Thai Netflix library or libraries of other streaming services are different from the ones in your home country. If you want to watch your favorite TV series or movies like you're in your home country, you will need a VPN to change your Netflix region.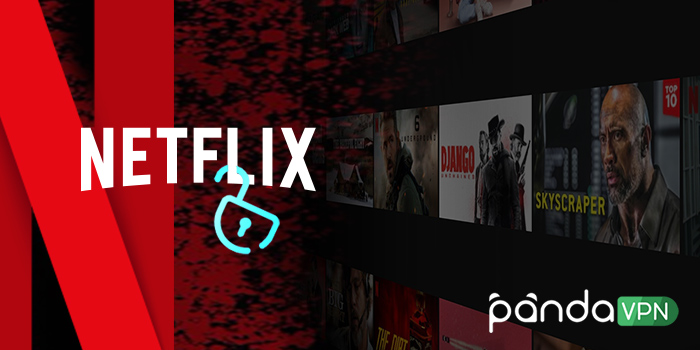 Q: Is Facebook blocked in Thailand?
Thailand doesn't ban Facebook, but the authorities censor Facebook pages. For example, Thai authorities shut down access in Thailand to the Facebook page "Royalist Marketplace" which discusses the country's king.
Q: Is YouTube blocked in Thailand?
YouTube has been temporarily blocked in Thailand several times. For example, Thailand imposed a complete ban between 4 April and 31 August 2007 due to a YouTube video that was considered to be offensive to the monarchy.
Exercise your rights to privacy in digital age!
Get PandaVPN
7-day money-back guarantee