Blog
Best Torrent VPN: How to Download Torrent Safely with VPN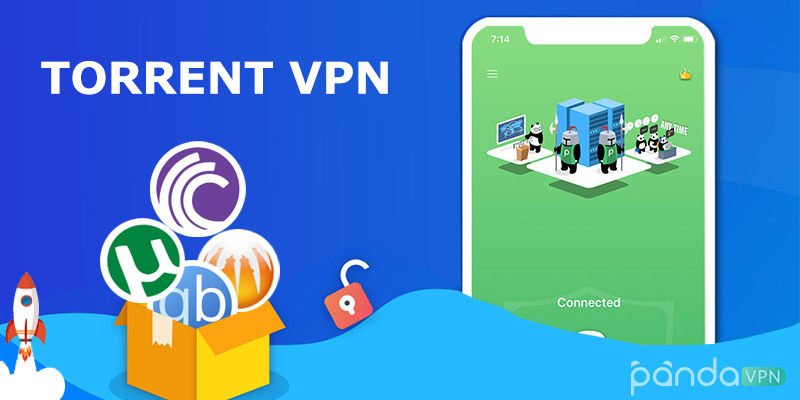 Torrent VPN is quite necessary if you are worried about security problems and want to download torrents secretly and safely. 
There has been a saying going around for years: torrenting is dying. However, the truth is quite the opposite. With the popularity of streaming services in recent years, say HBO, Hulu, Disney+, etc., obtaining the opportunity to watch what one likes at will becomes more and more expensive because different streaming platforms usually have their own unique creative content. That makes torrenting come across another surge in usage.
Torrenting, in simple terms, refers to the behavior of downloading and still uploading and sharing files via the BitTorrent network. Since it belongs to P2P file sharing, there's no fixed central server, but every file downloader and uploader could be a member of the server team, which leads to an average faster download speed compared to traditional normal downloads. Surely the premise is that there are many file-sharers being online at the same time.
Why Torrent VPN Is Necessary?
VPN is one of the most commonly used approaches to prevent internet tracking by hiding IP address and locking the data. In short, many people run a VPN during torrenting just because:
– They don't want their torrenting acts to be detected and known by their internet administrator, company, ISP, government or similar, so being anonymous by hiding and changing IP address is badly needed.
– They are not allowed to access torrent sites due to internet limitation and VPN's legality issue in certain countries. In most cases, torrent download is just banned in (library/coffee shop's) public networks for its high cost of traffic and still in countries with strict internet censorship, China, Russia, North Korea, Belarus, just to name a few.
– They require a VPN app to protect the online security, avoiding coming across digital threats such as malware, virus, spying, trojans, and DoS attacks.
In light of these reasons, either torrent platforms, torrent client providers and torrenting fellows suggest a VPN usage when downloading or uploading a .torrent file.
Best VPN for Torrenting of 2021
To begin the best VPN selection, let's get together to look at some typical criteria to choose a stellar VPN provider:
• Torrent friendly [most important]
• Worldwide country, server and device support, the more, the better
• Fast connection speed, with no bandwidth limit
• First-class encryption and protocol method, to lock everything tightly
• Reasonable price
• Instant and professional tech customer support
Here several most commonly mentioned torrent VPNs online are handpicked and a full comparison is done to help all of you make a wise decision.
Note that since free VPNs either give time or traffic restriction, deliver extra data, or log your personal data, we don't recommend any freebie here to put you into a risky situation.
Best VPN for Torrenting & Comparison
VPN Name
Based in
Servers & Locations
Connection & Speed
Encryption
Ads blocker
No-log policy
Best-value Price
PandaVPN
Seychelles
3000+ | 153 (78 countries)
No traffic limit, split tunneling, patented acceleration tech, unique ultra-fast IPLC servers…
ECC
Y
Y
$2.49/mo
ExpressVPN
British Virgin Islands
3000+ | 160 (94 countries)
No traffic limit, split tunneling
AES-265
Y
Y
$6.67/mo
CyberGhost VPN
Romania
6000+ | 111 (88 countries)
No traffic limit, split tunneling
AES-265
N
Y
$2.75/mo
TunnelBear VPN
Canada
Unknown (41 countries)
No traffic limit, split tunneling
AES-265
Y
Y
$3.33/mo
NordVPN
Panama
5000+ | unknown (60 countries)
No traffic limit, split tunneling
AES-265
Y
Y
$3.67/mo
Here, if you want to own a cheap yet good-to-use and reliable VPN service in the long run, PandaVPN is strongly recommended. It not only offers a dedicated BitTorrent server group for P2P downloading fast and securely, thousands of servers are standby for diversified user demands like streaming, gaming, firewall & geo-locked content unblocking, freer speech.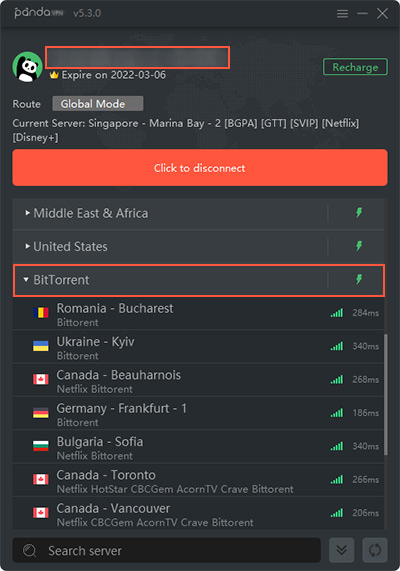 PandaVPN is a slick torrent VPN available for both PC and mobile. The geographic diversity, accelerated connection, and best-in-class encryption tech contribute to a perfect secured incognito P2P experience on your device. Plus the location is outside the 5/9/14 eye alliance and "0-log" policy execution, there's no way to leak your web activity and personal information to any third party.
Now do equip your smart device with PandaVPN and start a true pirate and safe torrent journey right away.
PandaVPN compatible devices: Windows, macOS, Android, iOS, Linux, and Android TV
Simultaneous device connection: 3 devices at the same time
Torrent clients supported: uTorrent, BitTorrent, Vuze, Deluge, qBittorrent, Bitport.io, BiglyBt, Xunlei and many more
Steps on how to torrent with PandaVPN
Step 1: Download and install PandaVPN on your machine. Then register an account and launch PandaVPN to log in.
Step 2: Go to the BitTorrent server group to select a node to connect. If they are not what you want, pick another one from other groups. Please note those "NO BT" and streaming service only nodes are not recommended to choose.
Step 3: Navigate to the torrent site, select and acquire the .torrent file or magnetic link. Open it and start the safeguarded torrenting with torrent clients such as uTorrent.
Torrent VPN Related FAQs
1. Is It Safe to Torrent (Without VPN) Online?
To some degree. On one hand, some hoaxers may share malicious torrent files online for further attack. On the other hand, the ISPs, governments, copyright holders perhaps follow your anti-piracy acts and put you into a dangerous situation. That's why many editors leave the same "torrent with caution" advice.
Therefore, to operate foolproof torrenting, you'd better go to mainstream torrent sites like 1337x, The Pirate Bay, KAT, and RARBG, run antivirus and VPN programs in the background, as well as pick appropriate torrents with satisfactory seeders and leechers (fresh torrent of new movies and TVs are not suggested for high risk of anti-piracy warning) for blazing-fast download.
2. Is It Legal to Torrent with VPN?
The legality of torrenting and using VPN are both long-term topics on the web. Strictly speaking, both torrent and VPN techs are not illegal. What turns torrenting to be an illegal thing is the target torrent file. If it's unsanctioned copyrighted material, then you break the law. Similarly, what makes VPN usage illegal lines in what you've done with the VPN software. If you live in a VPN-banned country and still employ this tool, if you commit a crime online with the "protection" of a virtual private network, the police are likely to knock on your door and catch you.
In a word, get familiar with your country's online censorship rules and related laws regarding VPN and torrent before releasing yourself in the torrent world.
Related reading: Is VPN Illegal or Legal
3. Why My P2P Torrent Download Is Slow with VPN?
The actual torrenting speed is decided by many factors, so follow the fixing tips below one by one to see if the speed is increased.
Firstly, please ensure you are downloading a high-quality torrent file with a high seeder-leecher ratio.
Then, check and confirm that both the torrent client and device don't have any speed-unfriendly settings like bandwidth limit, BitTorrent protocol encryption, port number.
At last, you can quit the antivirus program, alter the VPN server node and the torrent client to have a try.
4. Is There 100% Free Torrent VPN and Can I Use It for Torrenting?
Yes, there are some total freebies and of course, you can use either of them to torrent, but you should bear the traffic and server limits, possible ads, and their log-keeping of your online behaviors. >> See Are Free VPNs Safe?
5. Will My Government and ISP Know I'm Working with VPN?
It depends on whether your VPN hides your IP address and encrypts everything tightly. When your VPN is from a country among 5/9/14 eye alliance nations, or the VPN itself has any performance bug to expose user data, your government and ISP are likely to know you are using a VPN.
PandaVPN adopts the safest VPN protocol – OpenVPN and state-of-the-art 256-ECC encryption to shield your online data and privacy. Plus true zero-log policy, bitcoin payment, and random account, your torrenting with VPN will never be known by others.