Why uTorrent VPN Is Necessary & How to Download/Share Torrents with It Safely?
Vic Knott
2022.01.01
Online Privacy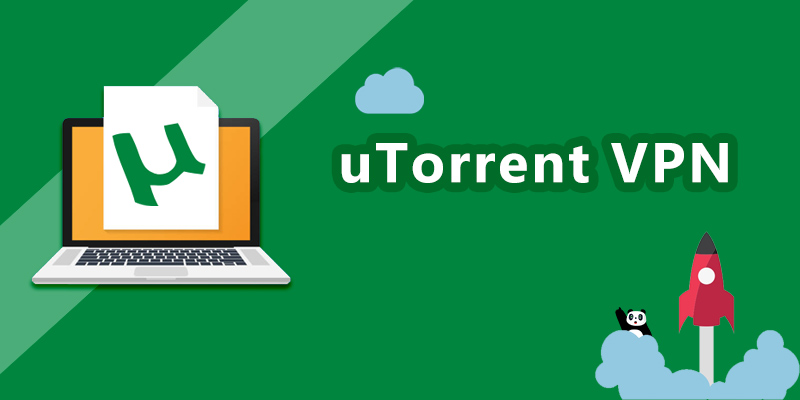 To download torrent files with uTorrent Classic or Web version, if you want to make your online identity from all others, including users downloading or seeding the same torrent with you, the platform, your Internet service provider/ISP etc., you can employ a reliable uTorrent VPN…
uTorrent defines itself as the No.1 torrent download client worldwide. Actually, if setting Chinese users aside, it really is, with more than 150 million people in total all over the world. Why China is excluded? That's because the users here prefer to use a local P2P app called "Xunlei" and cloud storage approaches like Baidu Cloud due to strict domestic internet censorship.
If you are one of those who get used to downloading, playing, and sharing seeds with uTorrent client service, no matter it's the in-browser web version or the desktop software version for Windows, macOS, and Android, as long as you plan to mask your IP address and do more secure torrenting, you are suggested to seek help from Virtual Private Network service for uTorrent.
Main Benefits You can Gain from An uTorrent VPN
The virtual private network is known as VPN, with which you can mainly get an overall improved level of online security, web anonymity, internet freedom and machine efficiency sometimes. When you are buying something from an e-commerce site with price steering in global market, the VPN also delivers you more options to choose from as it offers really rich country support.
When it comes to advantages when using an uTorrent VPN, you can have a look at the following list:
1. You can bypass geo-restriction and access any torrent sites.
Internet censorship can be everywhere to limit your website access. When you are connecting to a public Wi-fi or a (school or company) LAN, you are mostly probably banned to visit say bandwidth-eating streaming and torrenting services, social media apps, and so forth. When you are living in a heavily censored country, you may also be not allowed by ISP to enter into the normal Internet world at all, with a nationwide web online censorship and surveillance for political or/and religious reasons.
In fact, you can break all of those LAN-based or national web limits by leveraging a VPN program, surely all torrent websites filtering included. Therefore, regardless of your locations (e.g. China, UAE, UK, Australia, Russia, Italy and Germany) and target torrent library sites (for example The Pirate Bay, RARBG, 1337X, Kickass Torrents and YTS), an uTorrent VPN can help you search and stumble upon your favored movie/TV series/anime titles and similar anywhere you like.
2. uTorrent VPN helps you enjoy full speed by removing potential bandwidth throttling from ISP or so.
The BitTorrent traffic is estimated to take 1/3 of all web traffic, hence many ISPs tend to put bandwidth throttling or shaping to users with torrent downloads and other similar types of web traffic like(ultra) high resolution video streaming. uTorrent is not an exception. As one of the prevalent BitTorrent clients, uTorrent, along with BitTorrent, qBittorrent, Vuze, Deluge, and so forth, is the key throttling target due to the huge amount of bandwidth it uses and possible legal matter it may create, typically that caused by downloading copy-protected content.
If your uTorrent traffic is slowed down by ISP, the only way to block ISP's tracking is to disguise your blocked traffic. Obviously, VPN is an ideal way to go. With it, all of your traffic can be routed via an encrypted VPN tunnel through their server so that the ISP detection and bandwidth throttling will have no idea and effect on your torrenting.
3. Since your IP address is hided, your privacy is protected fundamentally when torrenting.
We all know that the network administrator and ISP can trace your actions online with IP address. VPN just works by hiding your true IP address and moving you on to another one distributed by the server you choose within uTorrent VPN. In this way, your Internet Protocol number is altered so that no one else knows your real IP, and connect the peer-to-peer activity from the "fake IP" with "real you".
Think about if an avid torrent user doesn't equip VPN with uTorrent downloading, the continuous background torrenting would be noticed by the network administrator or ISP for hogging bandwidth too much, then an unexpected notice may be sent, the internet connection speed may be capped, and even an unwanted ban on torrent APP may be conducted. Furthermore, anyone in torrent-banned countries still takes the risk of being caught by the police. (See: Is torrenting illegal?)
4. The VPN tunnel & encryption lock all traffic & data tightly for an enhanced security during torrenting.
The key factor that VPN is more favorable than another similar tool called "proxy" lies in the employments of VPN protocol and data encryption. On one hand, the VPN protocol builds a safe protected tunnel between the user end and the target requested server to transmit data. On the other hand, VPN protocol's internal encryption plus the extra advanced encryption algorithm like AES, ECC or Blowfish jointly input dual protection on involved traffic and materials shared, defending them against tracking, supervision and hacking from any third-parties like the ISPs, the advertiser agencies, the governments, and the hackers.
If you are a newbie, you must have less awareness on the danger of torrenting. It's not as safe as you think because the .torrent file may contain unknown virus, adware or malware to harm your device and steam your information.
VPN That Works Well with uTorrent Client/Web
It's easy to find out that uTorrent officially provides a "PRO + VPN" yearly plan for being anonymous online with Web or desktop version, and the VPN is exactly called CyberGhost VPN.
CyberGhost VPN is a known Romania-based VPN service. According to official data, it has over 7400 VPN servers around 90 countries, with either of which can you enjoy private torrenting experience with no traffic limit. By supporting AES-256 bit encryption and no-log policy, you won't have to worry about data leakage during uTorrent usage. Here both one-year PRO + VPN plan for Classic and plan for Web are priced at $69.95. After taking the PRO's part away, the one-year CyberGhost VPN takes just $50, with about $4.17 per month.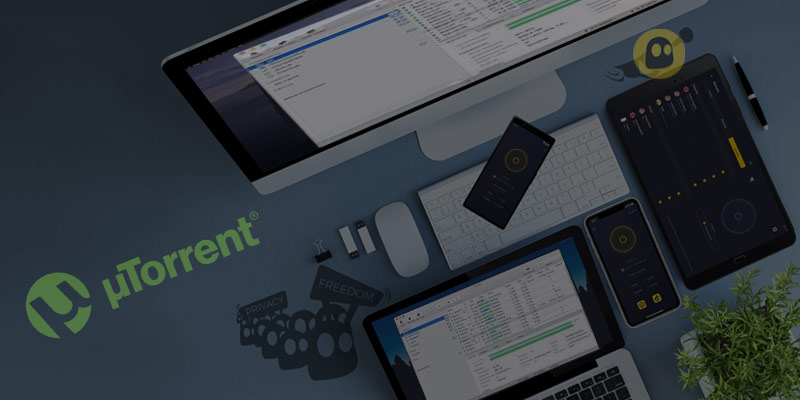 For a large number of users, the main purpose for torrenting is to obtain free multimedia, software or other materials just for free. That means, maybe some people don't have enough budget for a VPN like CyberGhost VPN. In view of this, here we recommend a more budget-friendly yet quality still VPN program "PandaVPN" as an alternative choice.
PandaVPN is a Seychelles-based VPN service, which is also a democracy for VPNs for having no data retention laws to keep user data. 3000+ servers are available here for 80 countries and 170+ regions across the world. Although it's not as many as that in CyberGhost, it has no problem at all for unblocking any torrent sites, stopping ISP throttling, accelerating file download & share speed, most importantly concealing your online invisibility, safeguarding your personal data and actions, thanks to the rich server locations, ultra-fast connection speed, multi-protocol support, the highest-level of ECC encryption tech, as well as truly zero-log policy.
Also, PandaVPN is not only compatible with uTorrent supported platforms – Windows, macOS, Android and Linux, but also works perfectly with iOS and Android TV. Now the "buy-one-year-get-an-extra-year" promotion only requires you $59.99 to enjoy a two-year plan, equally $2.49 per month. Basically, 3 devices are allowed to be online simultaneously for P2P torrenting. If you are willing to add more devices, you can customize the device number with related affordable price.
Note that if you don't want to purchase VPN with a bank or credit card, you are suggested to choose BitCoin crypto payment method to secure your money transfer from the very beginning.
How to Torrent Safely & Anonymous with uTorrent VPN
The following guide showcases you how to setup VPN to work with uTorrent client on your devices. We just set PandaVPN as the demonstration.
Step 1. Download, launch and log in PandaVPN.
Step 2. Pick a server anywhere you like and connect to it in one-click. PandaVPN also has a server category for BitTorrent.To save your traffic and data, OpenVPN is more recommended to use. Also for mobile torrenting, Splitting Tunneling feature is embedded under Settings to self-define what application to use or not to use VPN.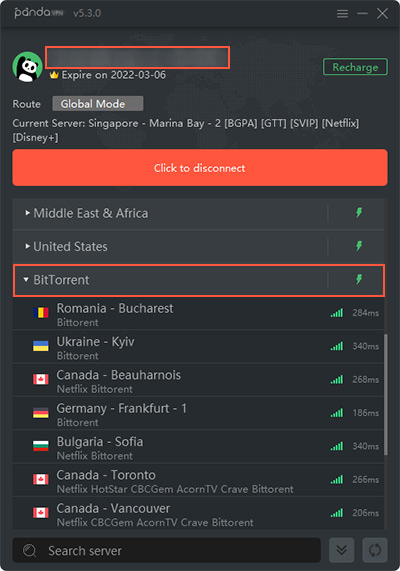 Step 3. When the VPN connection is on and successful, you can navigate to top torrent sites for digging the torrent file or the magnetic link of your favorite movies, TV series, movies, music, podcasts, anime and so on. Then download the .torrent file into local space or directly copy the link address to move on.
Step 4. Open up your uTorrent client and open the file or link to start the download. If have already added some tasks here and want them to go on, simply start the task with a click, with torrent VPN running in the background always.
Exercise your rights to privacy in digital age!
Get PandaVPN
7-day money-back guarantee