Skype Blocked in UAE, Oman, Morocco, etc.? Here's How to Unblock Skype
Tony Bennett
2022.04.14
How-to Guides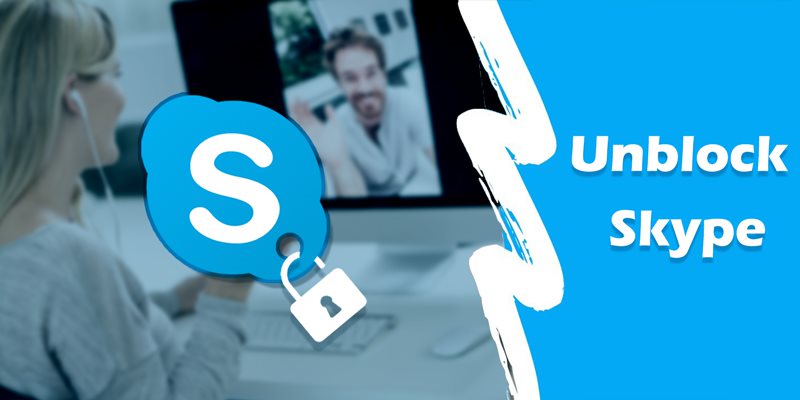 Skype is a communications application owned by Microsoft, available on various desktop, mobile, and video game console platforms. Best known for VoIP-based videotelephony, videoconferencing and voice calls, Skype has some other features such as instant messaging, file transfer, and debit-based calls to landline and mobile telephones.
Skype is used by 40 million people each day. In some countries, Skype is censored. People in these countries have no access to the Skype app. Besides, the use of the Skype website has also been restricted somehow. Keep reading to know some tips to unblock Skype.
Censorship of Skype
Some countries have banned access to Skype, while others have limited Skype's services. Check the tablet below to take a quick look. The list is subject to change as policies change in different countries.
| | | |
| --- | --- | --- |
| | Time | Detail |
| UAE | Since January 2018 | Both app and website are blocked |
| Oman | Since 2005 | The ban on Skype was lifted in March 2022 |
| Uzbekistan | Since January 2021 | Skype, TikTok and Twitter are formally blocked |
| Bangladesh | Since 2015 | Skype and many other VoIP services are blocked |
| Morocco | Since 2012 | Both app and website are blocked |
| China | Since October 2017 | Not blocked, but removed from all app stores |
Both the Skype application and its website have been blocked in the United Arab Emirates by the Telecommunications Regulatory Authority since January 2018. People in UAE can't use Skype. In addition to Skype, many other unlicensed VoIP services are blocked in the UAE, such as WhatsApp, Viber, and Snapchat.
Before Oman lifted its ban on Skype following the coronavirus pandemic, this app had been blocked in Oman for several years as well as other voice calling services.
Uzbekistan has formally blocked Skype and some other social media apps like TikTok and Twitter since January 2021. These companies ignored the request to submit their citizens' data to the Uzbekistan government.
Skype has been blocked in Bangladesh as well as many other voice or video calling applications since 2015. The ban started after a complaint from the Bangladesh Awami League about using Skype for the election interview process by the opposition party of Bangladesh.
Since 2012, Morocco the Skype app and website have been blocked by one or more ISPs in Morocco. It's a part of the North African country's telecommunication operators that implemented the ban.
Skype is not blocked in China. However, in October 2017, the Skype app was removed from the iOS app store and any Android app store in China because a large number of voices over Skype don't comply with local laws. You can get the Skype APK file from its official website.
Why is Skype blocked in some countries?
Skype is blocked or restricted in multiple countries for many reasons.
1. Avoid cybercrime on Skype.
Cybercrime on Skype is an important factor that is blocked/restricted in some countries. Cybersex trafficking was found on Skype. For example, Australian Federal Police claimed that overseas pedophiles were directing child sex abuse using its living streaming services.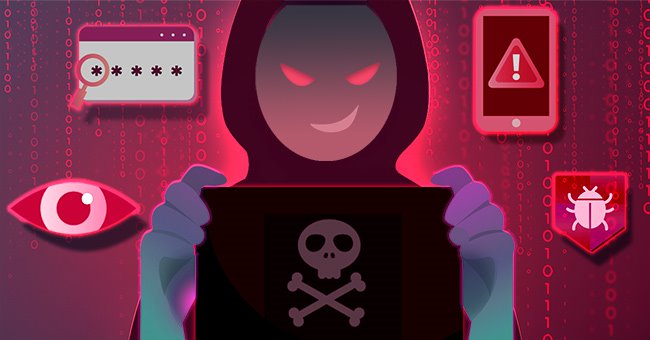 2. Failed to cooperate with local censorship or obey the local laws.
Some countries in Asia and the Middle East may block Skype and other VoIP apps for the reason that the local governments can't monitor Skype's user data. Or, If Skype refuses to comply with the local laws in these countries, it can't get a foothold.
3. Protect local telecom services.
Skype offers free voice or video calls over the internet. This is a risk to local telecommunications companies that mostly rely on telephone revenue or offer the same VoIP services. For this reason, some countries especially in Central and South America ban or limit the use of Skype and other similar applications.
Then, let's talk about how to unblock Skype from the countries where it is banned.
How to unblock Skype with a VPN from where it is blocked?
If you are in a country where Skype is blocked, you can use a VPN (virtual private network) to bypass the internet restrictions. A virtual private network lets you connect to the internet through alternative IP addresses offered by the VPN provider.
This changes your original IP address. You can switch your location to countries where Skype is allowed to use. As a result, you can get around the Skype blocks and connect to blocked services and websites.
PandaVPN is a good VPN for Skype, offering 3000+ servers in over 170 VPN locations in 80 countries. This ensures you can easily find a server that is close to your location. The closer the server is, the faster VPN speed you get.
Then, we take PandaVPN for Windows as an example to show you how to unblock Skype for Windows with a VPN:
Step 1. Sign up and get a digital account for PandaVPN.
Head to PandaVPN's official website to Get PandaVPN. You'll get a random digital account and you don't have to offer your email address. All you need to do is set a unique and strong password. This is one of the good habits to protect your privacy online.
Step 2. Download and install PandaVPN.
Then go to the download page to download PandaVPN and install it on your device. Except for Windows computer, PandaVPN also supports quite a few other Oss, including Mac, iOS, Android, Linux, and Android TV.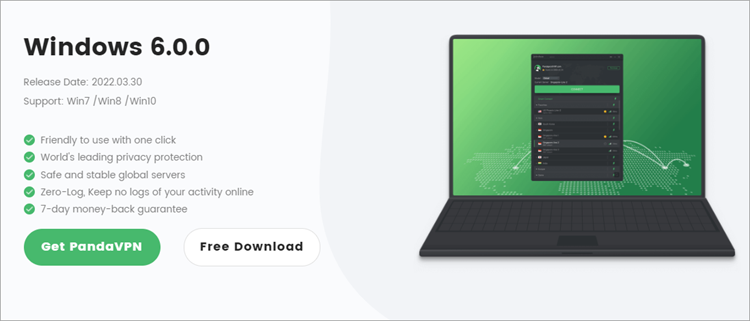 Step 3. Open PandaVPN and connect to a server location where Skype is not blocked.
Open PandaVPN and log in to your account. You can use the smart connection mode that will automatically connect you to the best server at the time. Or, you can change the routing mode to OpenVPN Mode/Global VPN Mode, and then manually choose a server and click the green button to connect.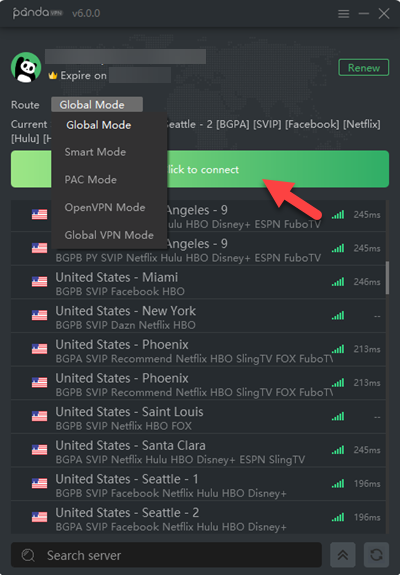 Step 4. Run Skype and make a video call to your friends.
Now you should be able to contact your friends, families, or colleagues on Skype for PC or other devices. (Image credit: Skype)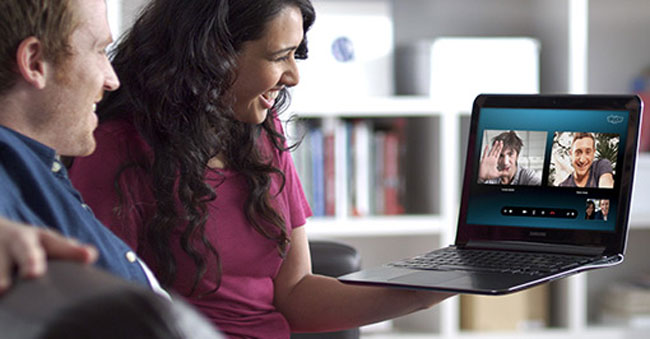 How to unblock Skype on a blocked network?
Firewalls filter network connections, especially in business environments where security matters very much. While firewalls prevent malicious attacks, they may also block legitimate applications such as Skype from connecting properly. Here come some tips to use Skype on a blocked network.
Tip 1. Change firewall settings.
Skype attempts to bypass the Windows firewall during installation. You need to manually adjust the hardware firewalls. We take Windows 10 as an example.
Go to Start > Windows Settings > System and Security > Network & Internet > Windows Firewall > Allow an app through firewall, and then find "Skype.exe". After adding Skype to the list, you should be able to see checkmarks in both columns labeled "Private" and "Public." If not, select Skype, and click "Details" and "Network Location Types" to add them.
Tip 2. Unblock the ports that Skype needs to communicate through the network.
At each launch, Skype randomly selects a port number above 1024 for incoming connections. If the number selected is blocked, alternate ports 80 or 443 are chosen. This process usually bypasses blocked networks successfully. You can also select alternate ports in the firewall as below.
First, read the documentation that came with your router or locate specific instructions for your router at portforward.com to open any port higher than 1024. Next, on Skype, click Tools > Options > Advanced > Connection and then enter the number of the port that you opened just now.
Tip 3. Call ISP to check if it is blocking the connection.
Give your ISP a call to find out if your Skype is blocked from the ISP's end. If so, ask the ISP if it will unblock the connection, or choose a different ISP.
See Also: 3 Tips to block/stop ISP tracking >
Exercise your rights to privacy in digital age!
Get PandaVPN
7-day money-back guarantee