Game Accelerator/Booster: Does It Enhance Gaming Experience Better than VPN?
Vic Knott
2021.12.22
Knowledge Base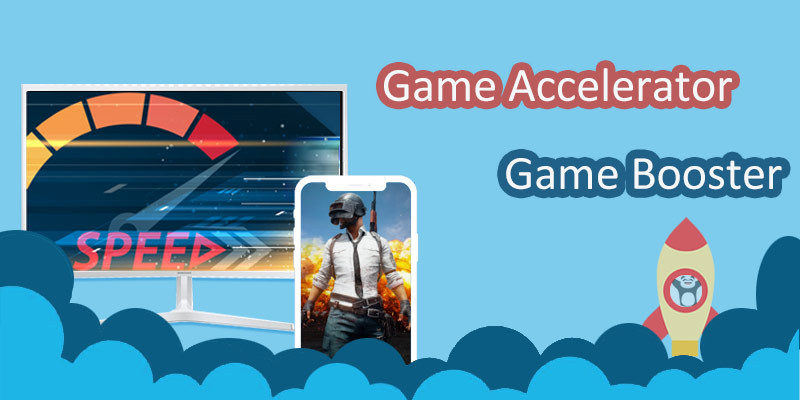 If you are now experiencing the "games run so slow", "high latency/ping value when gaming" and alike problem on your PC or mobile gadget, you may seek help from a game accelerator or say game booster to do a speedup…
For avid gamers, game accelerator, aka game booster, is quite a familiar tool product to help get the gaming experience better in its own way. Then if you are a newbie and utterly unknowledgeable in this, this comprehensive post will do you a great favor by explaining what is game booster, how does it work, when it's really useful, and how to speed up the PC or mobile gaming in other approaches.
What Is Game Accelerator/Booster
You may know that software like PC booster and PC/system optimizer is to manage computer for better every-day performance. Game accelerator works quite similarly, mainly boosting the FPS by monitoring memory & temperature, optimizing related system settings, as well as managing and even stopping needless applications and processes running in the background during gaming. Thus more valuable resources and spaces are freed up for a more fluent gameplay. If you enjoy the game on battery-limited devices, the tool can also act as a battery saver for longer stand-by time.
Some typical and known (free) game accelerators for both computer and mobile are shared for your reference:
| | |
| --- | --- |
| Name | Supported Platforms |
| MZ Game Accelerator | Windows XP/Vista/2003/7 (some claim Windows 8+ supported) |
| Razer Cortex Game Booster | Windows 11, Windows 10, Windows 8, Windows 7 |
| Wise Game Booster | Windows XP, Vista, Windows 7/8/10 (both 32-bit and 64-bit) |
| Smart Game Booster | Windows 10/8/8.1/7/Vista/XP |
| Samsung Game Booster | Samsung Galaxy A51 etc. |
| IObit Game Booster | Windows 11/Win10/Win8/Win7/Vista/XP |
| AU Speed Booster | Android 4.2 and up |
| EZ Game Booster | Windows XP, Vista, 7, 8, 10 |
| XunYou International Online Game Accelerator | All Windows systems including Windows 10 |
| XY Game Booster | Android 5.0 and up, iOS 10.0 or later |
| UU Game Booster | Windows XP/Vista/7/8/10, Android 5.0 and up, iOS 11.0 or later |
| … | … |
Since Windows PC/laptop and Android/iOS-based mobile are top gaming machines, more game accelerators are developed for those platforms. In addition, a portion of system optimizing apps has embedded with the Game Optimizer feature still to do one-click basic optimization tasks easily, without installing a dedicated game booster at all.
How Does A Game Accelerator/Booster Work?
You should know a thing or two about the game accelerator's working mode from the above-mentioned definition. Absolutely, although different programs may make a difference in how the accelerators work, to sum up, they can't escape the manners listed below.
1. Monitor everything that may cause slow-gaming problem in real time
In general, the main targets for a game accelerator to monitor include the game connection, frame rate/FPS, CPU & GPU temperature, RAM/memory, Disk and motherboard so that it's capable of controlling them properly to achieve satisfying gaming environment.
Also, to ensure a normal gaming performance, some would check (AMD/Nvidia) graphics and audio drivers in case they are quite outdated to achieve the best possible performance. That's because every update may fix some performance bottlenecks and make efficiency improvements, for overall or specific games.
2. Shut down unessential items & stop extra services
After the monitoring, some further behaviors must be done accordingly to realize a relatively smoother gaming goal. If you've launched many other apps like Facebook, Twitter, and Chrome browser but don't quit them before gaming, the game accelerator may put their status into Closed. For the hidden background services like Windows Time, Storage Service, and Windows Image Acquisition (WIA), the game booster would pick them out and stop those services that have nothing to do with the local or web game task. What's more, extra optimization actions are also possible, say cleaning RAM and clearing clipboard.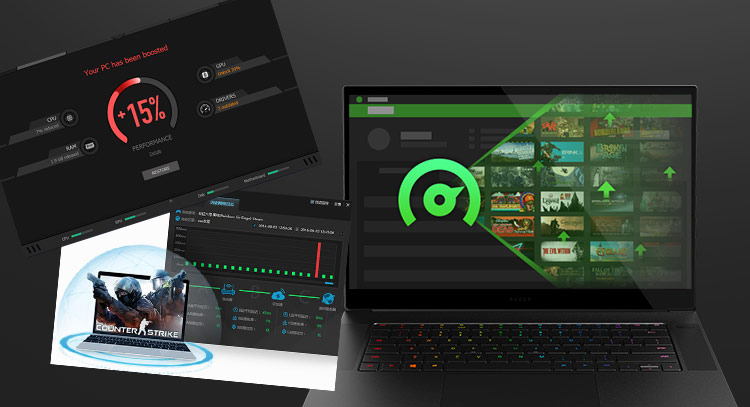 3. One-click optimization makes every issue found fixed
If you think performing the app shutdown, service stopping, and so forth one by one is complicated work, then you just thought wrong. The game accelerator will do all of those issues detecting things by default and display you the test result, what you need to do is simply to choose which issues the booster found you'd like to optimize and make it happen in one lick, for example, one-click reducing the CPU usage rate, releasing the RAM storage, overlocking GPU, and one-click optimizing all.
4. Some game accelerators offer dedicated game servers domestically or abroad
Set aside assigning more power to the game, since many players still encounter high latency due to distant server location or other connection reasons, offering devoted servers worldwide becomes another key feature of some pieces of game accelerating software like that from XunYou, a known Chinese company providing accelerating services for games and some other apps.
Simply put, XunYou International Online Game Accelerator and alike products work in the same way – reducing the latency and pings by setting up game servers in the middle and connecting the gamer end to the gaming server with the server. As a rule, those servers are only available for (expected) games from national server, foreign (steam) server (see how to change steam region) or gaming console, like LOL, PUBG, Babblefield V, Apex Legends, WOW, CS: GO, FIFA and Call of Duty. Consequently, users are unable to browse the web, download and upload files as normal when connecting to the server for game acceleration.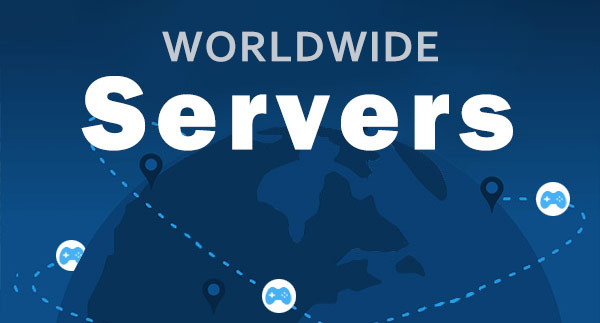 This workflow is somewhat similar to how does VPN work because they both require a server-in-the-middle to redirect the connection. However, VPNs are designed for more purposes regarding content unblocking, data encryption for better privacy and security.
Game Accelerator/Booster vs. VPN, What's the Difference?
Firstly off, you have to know that they are two different kinds of tools, only with a comparable feature to unblock and accelerate web games. Game accelerator and booster are developed for increasing gaming speeds only while VPN cannot only raise the gaming speed when it's throttled by ISP or the gamer lives in a remote area to the gaming server, but also features hiding IP address, changing gamer server locations, unblocking region-banned games, streaming services, websites, and many more, to level up the overall internet privacy, security, and freedom.
Then even gamer accelerator and booster may be distinct too, some of which only solve the network issues (e.g game delay, lag, slow loading, and disconnection) by disabling all irrelevant apps and processes just like you manually end them in the Task Manager whereas some deploy and build a global server base to cater to those gamers with disappointed gaming speed. Usually, once you are using the latter type of game accelerator, you will be geographically routed to a close location according to your choice or smartly through the default connect rule, to reach a higher-quality and faster gaming experience at WiFi, non-WiFi, 4G, or 3G network.
Besides, a game accelerator/booster/VPN may have advantages over its rivals at some particular games, so before you finally install it onto your device, check out its official words carefully to see whether your game is embraced by it.
A Handy VPN for Gaming Recommended
If you already have a nice game optimizer to help you manage all non-game items to prevent them from slowing the gameplay or access game at its ready-made server, you are still experiencing a bad network connection or are unable to unblock some games in your area, a game VPN is suggested to be applied. On one hand, your may come across a bandwidth throttling problem from your ISP or so. On the other hand, your game booster is probably incapable of changing the virtual location for playing games at another place you prefer. Luckily, the VPN program is able to fix these issues effortlessly. Surely VPN cannot replace game booster experts but can act as a partner to enhance the gaming experience from every side.
PandaVPN is a game-friendly virtual network private service which has 3000+ servers in 170+ locations all across the world. Until now, it has achieved over 30,000 global users, among which many gamers of PUBG (mobile), Mobile Legends/MLBB, Garena Free Fire, etc. are included. You can try out any "Game Proxy" or other groups' server to get an extremely fast, stable, and unlimited connection with really low latency/ping/delay.
It's compatible perfectly with iOS, Android (TV), Windows, macOS, and Linux. No matter you plan to play the accelerated game on either of them or get around geo-blocking for any web resources, you can open the PandaVPN up and one-click enjoy a fast connection and private internet access anywhere anytime. By the way, multiple VPN connections are allowed to accelerate and protect your devices with only an account.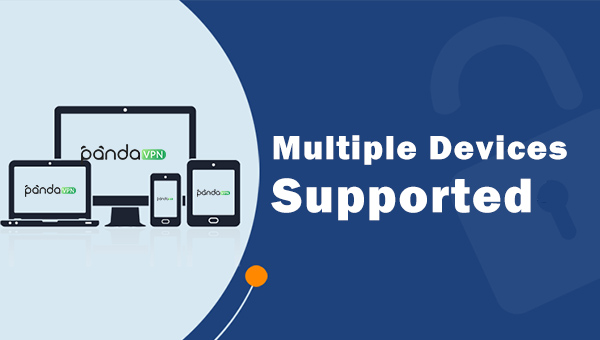 FAQs on Game Accelerator, Booster, and VPN
– Which is the best tool to speed up games?
There's no standard answer to which is the best game booster. That's because the actual gameplay environment must vary from person to person. As mentioned above, each accelerator, booster, and VPN may put its focus on different parts, so you'd better test the popular software to see which one is more suitable for you. Speed test service is suggested to leverage to test the real-time ping, download/upload speed, etc.
– Will the game booster restore the apps it has closed during the game?
Generally, when you finish the game, all apps and services will return to the state before gaming. So you don't have to worry about you would initiate them one by one by hand.
– What if neither game accelerator nor VPN fails to improve the experience?
If the stuttering, choppiness, and disconnection problems are always there, even with the assistant of booster or/and VPN for gaming, it's time to settle them out with other methods, turning on Game Mode (new Windows 10/11 has this setting option), lowering the screen resolution, altering game video settings (e.g anti-aliasing, VSync, draw distant and graphical details), upgrade the PC hardware/RAM/router/internet plan…
Exercise your rights to privacy in digital age!
Get PandaVPN
7-day money-back guarantee