Blog
MLBB VPN: What're the Benefits, Is It Legal & How to Work with it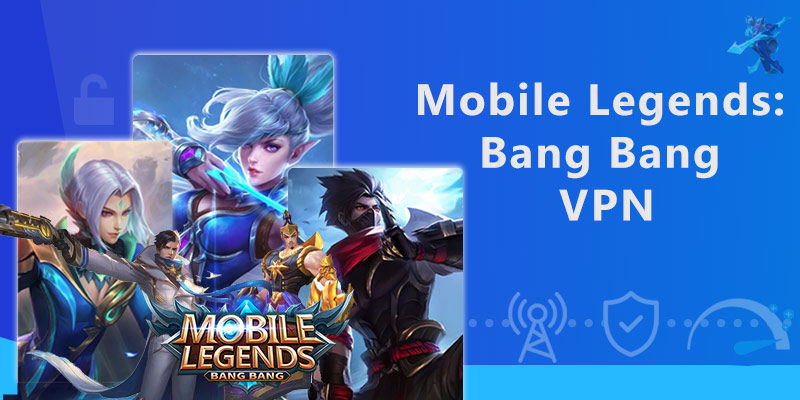 In some cases, Mobile Legends VPN is quite necessary. So you can learn multiple Mobile Legends: Bang Bang tricks in this post when there's an ML-friendly VPN in hand.
Mobile Legends: Bang Bang, which is also known as MLBB, Mobile Legends or ML, is a quite popular MOBA video game for mobile. MOBA is short for Multiplayer online battle arena and there are many big MOBA names across the world just like the League of Legends/LOL, Valorent, Dota/2, and Overwatch.
Mobile Legends, since its birth in 2016, has accumulated over 1 billion downloads as of July 2021, and the annual in-game purchase revenue surpassed 218 million dollars in 2020. According to the latest report from Statista, Mobile Legends: Bang Bang got second place at the "most popular MOBA gaming apps worldwide in Sep. 2021" (after Pokémon UNITE), with 7-million downloads in this single month.
Although this game is released in many countries and regions, the marketing details are quite different from places. For example, since Mobile Legends gained its fame greatly in South East Asia/SEA areas like Indonesia, Malaysia and the Philippines, more new heroes are created and released here to cater to the huge ML crowds, say Gatotkaca and Kadita in Indonesia and Lapu-Lapu/Trivia in Philippines.
Benefits Roundup by Using a Mobile Legends VPN
In case many new gamers may have no idea on what is Mobile Legends VPN and why use it, hence multiple benefits to game with the VPN program are shared below for your reference.
Benefit 1: Get around ISP bandwidth throttling and reduce/remove lag problem
It's a common phenomenon that the internet service provider(aka ISP) performs bandwidth throttling during the peak hours of a day to relieve the network pressure unless users pay for a more advanced service with no bandwidth limit. Surely this type of limit will affect the experience of web browsing, media streaming, file uploading/downloading, as well as playing online games, especially the latter three things. And most game boosters are unable to handle this issue at all.
When it comes to Mobile Legends gaming, you will typically encounter longer loading time, game lag issues, and higher pings. To improve or even avoid those annoying troubles and enjoy a latency-free or say fluent MLBB battle, as said above, you can upgrade your internet service level. If this is not what you want, leveraging a Mobile Legends VPN to escape any bandwidth limit as you wish is an alternative method here. Yes, not only the limit from ISP but also that from companies, schools, public-wifi owners and so similar are included.
Benefit 2: Change Mobile Legends server location and attend any target region's clan
Registered gamers usually have many reasons to change the server location of a game. According to an overall investigation, we found that the very first reason for MLBB server alters is to match up players from different nation groups, be it the Asian hotspots like Indonesia, Philippines, Cambodia, Malaysia, Japan, Myanmar, and Singapore or cross-continent regions like the US, Russian, Turkey, and Brazil.
By default, the game server you will be involved in is based on your current location. That said, you only have a chance to fight with those in the same location. Although Mobile Legends' developer Moonton (a game company from China and now is acquired by TikTok parent ByteDance in March 2021) permits users to change the profile country, only for once, it has nothing to do with the server distribution. That makes the VPN for Mobile Legends: Bang Bang a necessity for experiencing other servers and players, or region-specific events or promotions.
As for users outside the Mobile Legends supported regions, only by switching IP addresses to an MLBB-available one can they play the game normally. If not, the cold system notice pop-up like below will be always sent to you for notice.
– "We are solly that Mobile Legends: Bang Bang is not currently available in your country or region."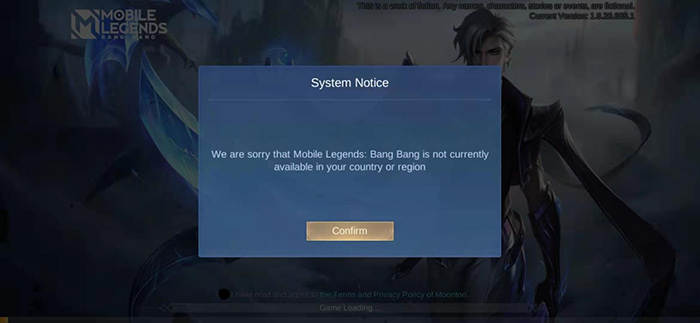 Benefit 3: Obtain Free Skins, Diamonds etc.
This is somewhat similar to the last benefit. As mentioned above still, a portion of ML fighters do server exchange just for joining into region-restricted events, and earning free skins and diamonds is actually the main purpose of it.
To realize this exciting free prize obtaining goal, you have to look out for related events (such as Philippines' Ca $ h Awaits Reward) every now and then and grasp the chance with the tickets and of course the help of VPN. Apparently, it becomes a trick that more and more ML newcomers have mastered.
Benefit 4: Ensure you a 100% secure payment
VPN is well-known for its capability to level up web privacy and cybersecurity. With a VPN run in the background, whenever you conduct an in-game purchase, it will encrypt your data and lock your shopping account, password, and other possible personal information so that no one else could collect, store, analyse or even steal it for profit usage. Protecting internet payment is super essential in everything, not merely in in-game purchase. Therefore, have a VPN nearby is suggested for anyone who will be involved in online shopping.
How to Fix ML Lag, Alter Server, Get Free Skin/Diamonds with ML VPN
Now let's get down to the steps on how to use a Mobile Legends VPN to make all of the listed benefits come true.
Step 1. Get a quality VPN for Mobile Legends: Bang Bang
Since Mobile Legends are only available for iOS and Android portable devices, picking a slick one VPN that's workable on these platforms is a must-do. Here PandaVPN is a good bet to choose thanks to its cross-platform compatibility, simplicity,  accelerated (gaming) server, wide location support (170+ regions worldwide and the number is growing), good user base & reputation in SEA and other places in the world.
PandaVPN supports new iOS 15 and Android 12 well. You can download it via official download or directly search it on GooglePlay or App Store for installation.
Step 2. Launch VPN and finish the log-in
To safeguard your behaviors better and guarantee a blazing-fast connection speed, you are recommended to pay for a pro plan because free trials may deliver you a relatively slower speed due to the massive use
Step 3. Choose a mode and the expected server location to connect
Either "Smart Mode" or "Global Mode" is OK for gaming. If any purchase would be made, "Global Mode (OpenVPN First)" is suggested thanks to the first-tire-safe OpenVPN protocol. (Learn more about OpenVPN)
Then select the server location you'd like to put yourself in amid Mobile Legends gaming, from the server list. PandaVPN offers one "Smart Connect" for no-brain connection and 13 server groups for you to choose by continents, countries, or other actions like gaming, streaming, and torrenting.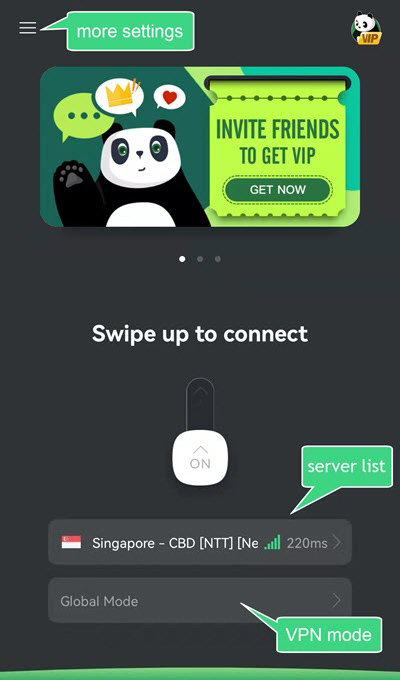 Navigate to the right group and tick the one with less latency value. Alternatively, you can straightforwardly search and pick. All hot battlefield positions can be found here, such as Indonesia, Philippines, Malaysia, India, Japan, Myanmar, Singapore, Bangladesh, Brazil, and the United States.
No need to press the button again, once you've chosen the target server, it will automatically connect to it immediately.
Setting tips attention: PandaVPN for iOS/Android offer split tunneling feature to enable or disable VPN in certain app(s). If you are willing to customize it, e.g only enabling Mobile Legends game to use VPN, do turn on this feature under settings and check "Enable VPN for selected Apps" ->"Mobile Legends: Bang Bang".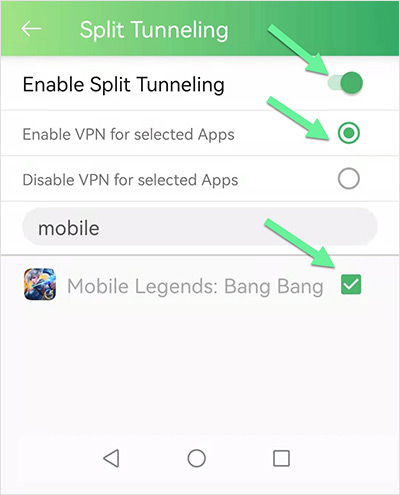 Step 4. Return and open Mobile Legends: Bang Bang for what you want to do with VPN
When you enter into Mobile Legends, your location is refreshed to the one you wish. At this time, if you are in a brand new area, you are free to create a new account in this area, play with local ML-phile, enjoy the power of region-limited heroes, attend this area's special event for free skins/diamonds. If you didn't change the country but simply use another IP address here to get rid of bandwidth throttling, speed up the game, or buy something in a 100% secure way, the successful connections make everything happen.
Actually, this game VPN not only works for Mobile Legends, but also accelerates and unlocks other names like LOL, PUBG, Garena, Free Fire, and so forth.
Is Mobile Legends VPN Legal/Illegal to Use?
Firstly, you must know that every piece of game has its own rules for account and user behavior management to keep a fair game environment, so does Mobile Legends: Bang Bang. If you are detected to obtain free skins or diamonds too quickly with the help of a VPN, causing an unfair gameplay environment, your account may be banned and will never be back. Nevertheless, think twice before you decide to obtain something valuable with a VPN.