Telegram Banned in Iran, Pakistan, China, India, etc.? Use a VPN to Unblock Telegram
Tony Bennett
2022.04.08
How-to Guides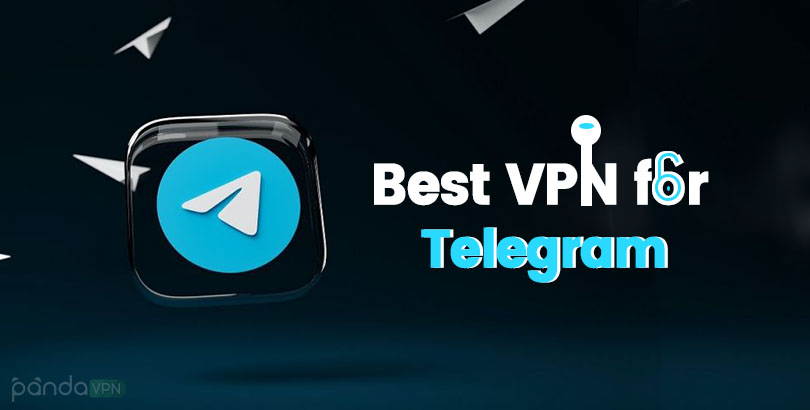 Telegram is a private messaging app that lets you access your chats from multiple devices. Your text messages, photos, videos, or files are securely encrypted and can self-destruct. It's an internet social paradise, where Telegram groups can hold up to 200,000 members.
However, Telegram is banned in multiple countries, especially in places of the Muslim world. How can you unblock Telegram from these countries? Why do they ban Telegram? Is it because Telegram is not secure enough? Let's explore more together.
Is Telegram safe?
Technically speaking, Telegram is safe to use. It is based on the MTProto protocol, which allows you to better transfer messages on weak mobile connections. And all texts, photos, videos, and shared files in Telegram are always encrypted.
Messages in Cloud Chats (private and group chats) use client-server/server-client encryption and are stored encrypted in the Telegram Cloud. While messages in Secret Chats use an additional layer of client-client encryption. All data is secured by 256-bit symmetric AES encryption, 2048-bit RSA encryption, and Diffie–Hellman secure key exchange.
Furthermore, Telegram is open-source so anyone can check its source code, protocol and API.
Is Telegram a Russian app? Many people have such doubts in mind. And they worry that a Russian app is not secure. The truth is that Telegram is founded by the brothers Nikolai and Pavel Durov. They are Russians. But Telegram is registered as a company in the British Virgin Islands and as an LLC in Dubai. You can trust it.
See Also: How to Beat Censorship in Russia with a VPN? >
Why is Telegram banned in some countries?
Telegram does well in protecting user privacy and data security. Why is Telegram banned in some countries? Encrypted communication software is a double-edged sword. Some people use it to shield online privacy and communicate securely with family and friends, while others may use it for illegal activities.
Telegram offers open-source code free for everyone. This attracts a large number of fringe groups. For years, Telegram also has been used for illegal activities such as spreading hate messages, illegal pornography, contact between criminals, and trading of illegal goods and services like drugs and contraband.
It is for this reason that some countries blocked Telegram.
Telegram Banned Countries 2022
Telegram has been banned temporarily or permanently by multiple countries. If you are short on time, quickly check the table below. We will update the information in the table from time to time.
| | | |
| --- | --- | --- |
| | Blocking Type | Blocking Time |
| Bahrain | Permanently banned | Since 2016 |
| Brazil | Temporarily blocked | February 2022 |
| China | Permanently banned | Since July 2015 |
| India | Not banned, but illegal to use | Since 2019 |
| Iran | Permanently banned | Since 2018 |
| Pakistan | Permanently banned | Since November 2017 |
Since 2016, some ISPs in Bahrain, an island country in Western Asia, have started to ban Telegram due to strict controls on online content.
In February 2022, Brazil imposed temporary restrictions on the use of Telegram after three Telegram channels were involved in fake news dissemination. The ban was lifted two days later.
Since July 2015, China has blocked access to Telegram Messenger because there are hate messages spreading on Telegram.
In 2019, some ISPs in India have blocked Telegram traffic and its official website for allegedly disseminating child abuse videos and communicating through it. Now Telegram is illegal in India, but it is not completely banned.
In Iran, Telegram had been fully banned since 2018. Iranians are not allowed to share texts, photos, and videos on Telegram. However, quite a lot of locals are still using this encrypted messaging app with the help of VPNs for Iran.
Since November 2017 in Pakistan, Telegram has been blocked on PTCL Network as per instructions from PTA, Pakistan's largest ISP.
How to unblock Telegram in countries where Telegram is banned?
As you can see, Telegram is banned by multiple countries, including Iran, Bahrain, India, Pakistan, and China. In these countries, the only way to communicate through the Telegram messenger app is to use a VPN service. A VPN can change your IP address to any address offered by the VPN provider.
A quality VPN usually has a lot of alternative IP addresses to offer. A "fake" IP makes you appear as if you are located in a different place. To achieve this, just connect yourself to a city or country other than your current one. That way, you can change your IP address easily and browse the internet anonymously.
Here we recommend a quality VPN for Telegram to you. PandaVPN is headquartered in Seychelles, a privacy-friendly country out of the intelligence-sharing scope between the 5, 9, and 14 Eyes alliance countries.
Highlights of PandaVPN:
3000+ servers around the world make sure you can access Telegram from anywhere it is blocked.
Zero log policy respects your privacy. You will be given a random digital account as your login credential. Don't have to offer your email address.
OpenVPN protocol and ECC encryption protect your internet connections from tracking by ISPs, advertisers, and hidden hackers.
Unblock Telegram Ban with PandaVPN:
Here we take PandaVPN for Windows as an example to show you how to access Telegram without restrictions.
1. First, sign up for PandaVPN.
Go to PandaVPN official site to Get PandaVPN. A digital account will be generated automatically. Set a strong password and you don't have to offer your email address.
2. Next, download and install PandaVPN.
Go to the download page to download PandaVPN and get it installed on your device. Multiple OSs are supported, including Windows, Mac, iOS, Android, Linux, and Android TV.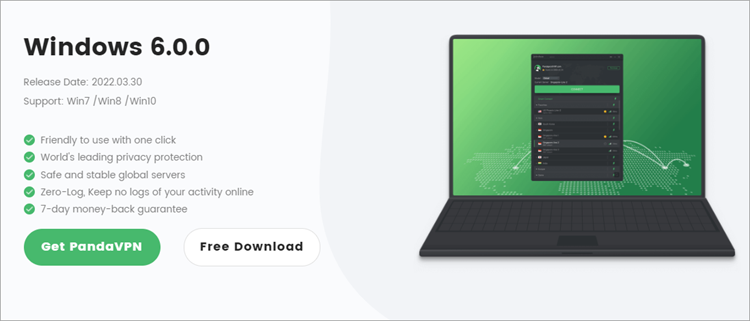 3. Connect to PandaVPN.
Open PandaVPN and log in to your account. PandaVPN has a smart connection mode that can automatically connect you to the best server at the time. Or, you can switch the routing mode. That way, you need to select a server and then click the green button to connect.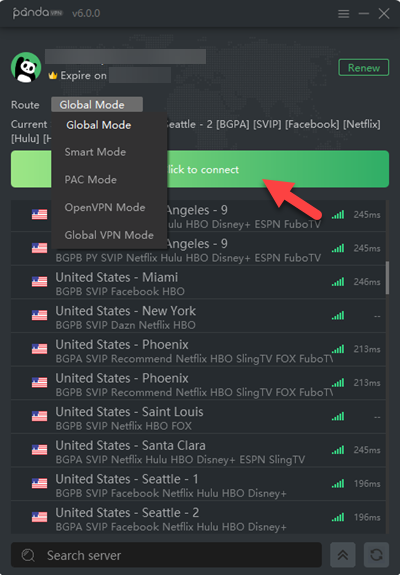 4. Open Telegram and send and receive messages without restrictions.
Now you should be able to send and receive messages through Telegram for PC or other devices. If you are still encountering restrictions, try clearing cookies.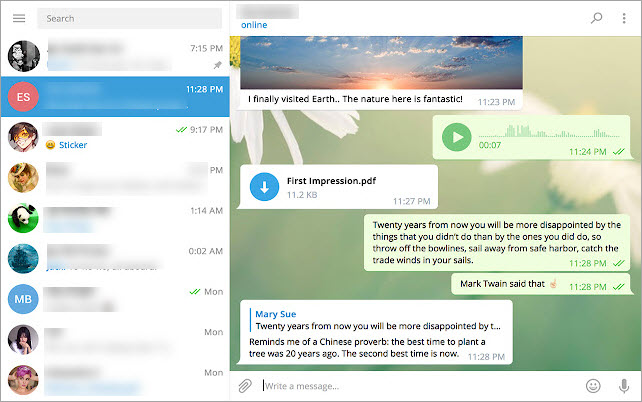 Other FAQs about Telegram Ban
1. Why did Telegram ban my phone number/account?
Telegram protects its users from spam, advertising, and malicious links. If you send massive spamming, you may lose your account temporarily or permanently. Creating multiple Telegram accounts from different phone numbers can't prevent you from blocking.
2. How can you unban a Telegram account?
a) Open the Telegram app.
b) Log in to the Telegram app.
c) Click on Help when it says your account is banned.
d) Send the automated email.
e) Open Gmail, write an email to try to describe what caused the wrong ban, and send it to [email protected] or Telegram support page.
It may take some time to respond. You can only wait in patience.
3. Banned from Telegram group, what to do?
a) Go to the Telegram deactivation page.
b) Enter your phone number to connect to your Telegram account.
c) Enter the code you received. Choose to delete the Telegram account and explain the reason.
d) Sign up for a new account in order to use Telegram again.
e) Now search for the Telegram group and rejoin it.
Exercise your rights to privacy in digital age!
Get PandaVPN
7-day money-back guarantee