Pakistan VPN: How to Unblock Telegram, μTorrent, YouTube, FB, etc. in Pakistan?
Tony Bennett
2022.08.10
Articles & News
How-to Guides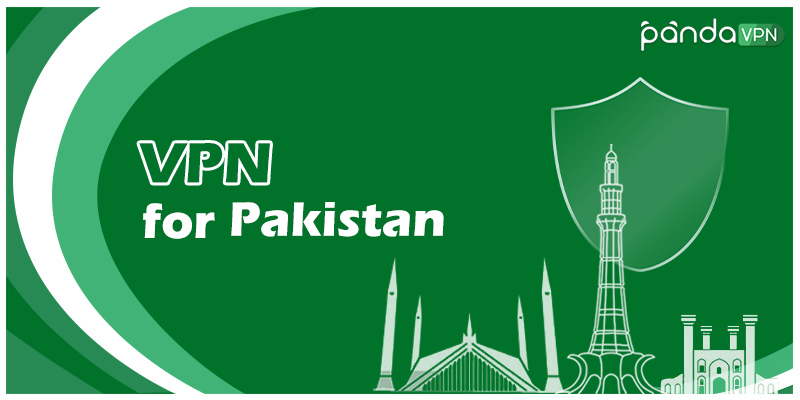 Pakistan is one of the most censored countries in the world, ranked after China, Iran, Myanmar, Cuba, Vietnam, and Saudi Arabia. Internet censorship in Pakistan is government-enforced. The government controls Pakistan Television (PTV) and Radio Pakistan, the only free-to-air broadcaster with nationwide coverage.
For example, the federal government banned the film, میں پاکستان کا شہری پاکستان کا مالک ھوں, in Pakistan on April 27, 2016, for endangering democracy. Later, the ban was canceled. In addition to controlling the output of information, the authorities strictly censor the input of information.
In December 2010, the government started Internet filtering that targeted critical remarks about the government and military, pornography, and other blasphemous content. The most notable example is that Pakistan banned YouTube from 2012-2016.
To regain free access to a wide range of online content, including sexual, political, social, and religious sites, you need a Pakistan VPN that allows you to hide original IP addresses. PandaVPN, a VPN provider coming from Seychelles, far away from 5, 9, and 14 Eyes, is a nice option.
PandaVPN offers 3000+ servers located in 170 VPN locations in 80+ countries all around the world, proving to be an ideal IP changer. With it, you can surf the internet without restrictions.
What Sites Are Blocked in Pakistan?
Now let's take a closer look at the Internet censorship in Pakistan. Websites are blocked through internet filtering that is enforced by Pakistan Telecommunications Authority (PTA) and the Federal Investigation Agency (FIA). They build a national-level URL Filtering and Blocking System that is similar to China's Great Firewall.
The followings are some of the most popular sites blocked permanently or temporarily in Pakistan:
| | | | |
| --- | --- | --- | --- |
| | Type of Ban | Start Date | End Date |
| YouTube | Repeated Bans | September 2012 | September 2016 |
| Facebook | Repeated Bans | 19 May 2010; 16 April 2021 | 27 May 2010; 16 April 2021 |
| Twitter | Temporary Ban | 16 April 2021 | 16 April 2021 |
| TikTok | Temporary Ban | 9 October 2020 | 20 October 2020 |
| Flickr | Temporary Ban | 19 May 2010 | 19 May 2010 |
| WhatsApp | Temporary Ban | 16 April 2021 | 16 April 2021 |
| Telegram | Permanent Ban | November 2017 | / |
| Wikipedia | Temporary Ban | 19 May 2010 | 19 May 2010 |
| μTorrent | Permanent Ban | July 2013 | / |
There are some examples of Pakistan's national blocking of popular sites.
YouTube was repeatedly blocked in Pakistan because the platform contains blasphemous videos or anti-Islamic films like Innocence of Muslims made by the US. Notably, YouTube was blocked in Pakistan from 2012-2016. The long ban was lifted officially after YouTube launched a custom version for Pakistan in September 2016.
On 19 and 20 May 2010, PTA imposed a ban on Wikipedia, YouTube, Flickr, and Facebook to respond to the blasphemous material. The ban was lifted on 27 May 2010, after the sites removed the content at the demand of the government.
On 16 April 2021, Pakistan restricted access to Twitter, Facebook, WhatsApp, and YouTube from 11:00 AM to 03:00 PM. This is said to maintain public order and security.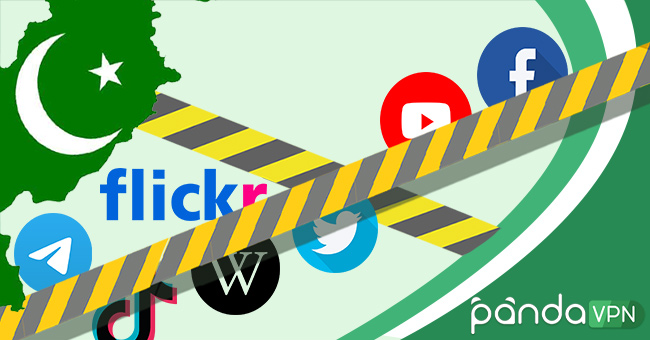 TikTok was banned for immoral content on 9 October 2020. The ban was canceled on 20 October 2020 after TikTok removed the content.
In July 2020, PTA banned PUBG, the online game PlayerUnknown's Battlegrounds. However, realizing people's support for PUBG, PTA lifted the ban.
Since November 2011, Pakistan has banned over 1,200,000 pornography websites. Child pornography is illegal in Pakistan. According to Pakistani laws, the actions involved in child pornography and child sexual abuse will be subjected to 14-20 years and a fine of 1 million Rupees.
Also, Torrenting is not legal in Pakistan. ISPs blocked torrent sites including Piratebay, Kickass torrents, Torrentz, Bitsnoop, Extra Torrent, and Torrent Reactor. The popular BitTorrent client – μTorrent is also banned in this country.
Does Pakistan Allow VPNs?
Does Pakistan ban VPNs? No, using a VPN is allowed in Pakistan. However, the Pakistani government monitors people's use of VPNs. In June 2020, PTA once asked internet users to register VPNs with the telecom authorities to avoid the ban on virtual private networks after June 30.
That means you can use VPNs in Pakistan for daily life and work needs. But criminal activities, subversive statements and actions against the government and military, blasphemy, etc. are not tolerated on the internet.
If you want to travel to Pakistan, you'd better install one or two Pakistan VPN apps in advance and keep an eye on the country's VPN policy.
Top 5 VPNs for Pakistan
Here comes the quick comparison table of 5 VPNs for Pakistan we recommend:
Note:
1) The free VPN PrivadoVPN is a free plan offered by its provider, with free data limited to 10GB/M.
2) As you can see, PrivadoVPN's free version provides no Pakistani server.
3) CyberGhost $2.29 per month requires a subscription of 3 years of VPN service, which will cost you a total of $89.31. This is the main reason why I didn't choose it.
While PandaVPN's 1+1-year subscription plan costs only $59.99 in total or $2.49 per month. More importantly, you can get a 7-day free trial on the PandaVPN iOS app and a 3-day free trial on its Android app.
The followings are the key features of PandaVPN, our preferred choice of Pakistan VPN:
 3000+ servers are located in 170+ server locations in 80 countries all over the world.
 Use a random digital account and keep no log of login credentials and email addresses.
 Headquartered in Seychelles where internet privacy is protected by local laws.
How to Access Blocked Sites in Pakistan?
We take PandaVPN for Android as an example and show you the easy steps to access blocked sites or once blocked sites like YouTube, FB, or Twitter in Pakistan.
Step 1: Download and install PandaVPN.
Click the button below to download PandaVPN and get it installed on your Android or iOS device. You'll get a free trial account and what you need to do is set a password and log in.
Step 2: Choose a server location without many internet access restrictions.
Enter Panda's server list and select a server to connect to, and you'll get rid of network censorship in Pakistan. For example, you can choose servers in the United States. PandaVPN offers 20+ US servers.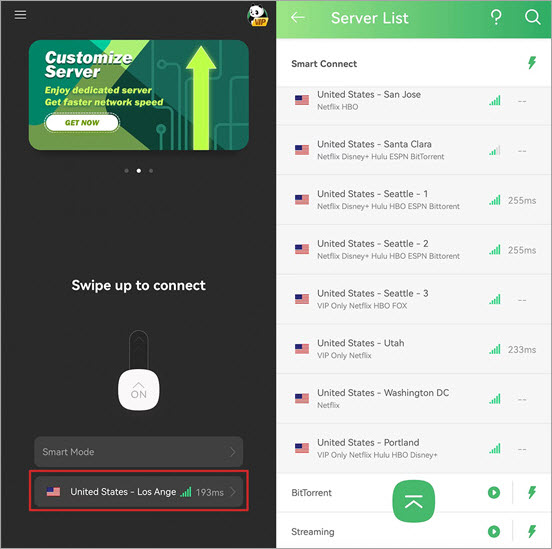 Step 3: Now you can access any sites banned in Pakistan.
Take YouTube as an example. You can now open the YouTube site or get its mobile app from Google Play Store or App Store. Then you can watch YouTube videos as you please.
How Can I Get Pakistani IP?
For Pakistanis abroad, if you want to access your bank account from outside this country, you'll need a Pakistani IP address to log in to it. Another reason to get a Pakistan IP address might be that you want to watch some local TV like Dunya News or Samaa TV.
Step 1: Connect to a Pakistan server.
PandaVPN allows you to search for the servers you want quickly. Just open PandaVPN and enter its server list. Click the magnifying glass search icon and type "Pakistan" to search for a Pakistan server.
Step 2: Change your IP address to Pakistan.
Tap on the Pakistan server you just searched for, and you'll get a Pakistani IP address. Then you can access your Pakistani bank account from abroad or watch dramas or movies in Pakistani.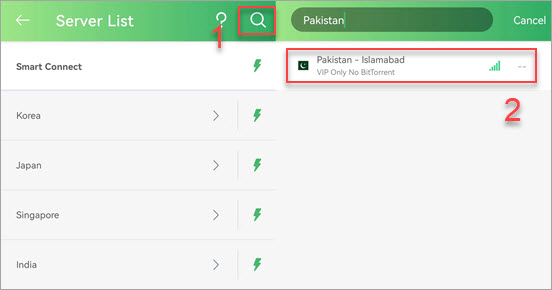 FAQs about Pakistan VPN
Q: Which VPN has Pakistan servers for free?
We failed to find a safe free VPN that provides Pakistan servers.
Q: How can I open a Pakistani website in UAE?
Pakistan and UAE are both highly censored countries on the internet. You need to get a VPN that works in UAE and offers Pakistani servers. PandaVPN is a good choice.
Q: Is Twitter blocked in Pakistan?
On 16 April 2021, Pakistan imposed a countrywide ban on Twitter from 11:00 AM to 03:00 PM. It's just a temporary ban.
Q: Is Telegram banned in Pakistan?
Since November 2017, PTA has blocked Telegram in Pakistan, one of the most encrypted messaging apps. Why telegram is banned in Pakistan? The authorities said that Telegram could be dangerous to the country's public order and security.
Q: Is Pakistan Free Fire unavailable now?
There is no official ban on Garena Free Fire in Pakistan. The game is still available in the store and Pakistani gaming lovers can download it.
Exercise your rights to privacy in digital age!
Get PandaVPN
7-day money-back guarantee