Best Myanmar VPN to Use Facebook, Twitter, IG and Unblock Sites Safely
Tony Bennett
2022.06.29
Articles & News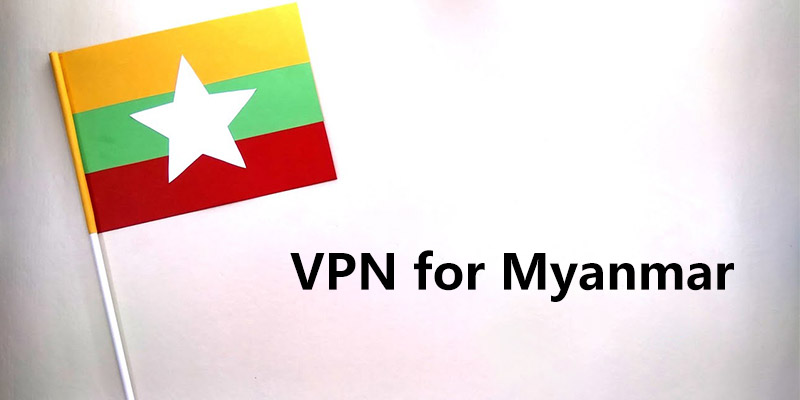 What's going on in Myanmar? Since the military coup overthrew the government in early 2021, Burma has been in a state of strict internet censorship and freedom of speech violations. People have no access to Facebook, Instagram, Twitter, etc., to show the world the severity of the local situation.
Bypassing censorship and protecting privacy are the two main reasons to get a VPN when you are in Myanmar. What makes a Myanmar VPN good? How to unblock sites fast and privately with a VPN? Keep reading to figure out.
Internet Censorship in Myanmar
Myanmar is listed as not free for both internet freedom and press freedom according to Freedom House in 2017. After the 2021 Myanmar coup d'état, censorship has been tightened. A few days after the coup, social media, including Facebook, Instagram, Twitter, and WhatsApp, were banned. From February to March, the local Internet experienced several shutdowns.
Online dating websites and pornography are strictly banned in Myanmar. Under Article 68 of Myanmar's newest cybercrimes law, online sexually explicit speech is punished with a three-year prison term. Plus, any criticism of military authorities is subjected to censorship. Any attempt to cause fear, spread false information, or incite a criminal offense against a government employee can result in jail time.
Since the censorship, video platforms such as YouTube and TikTok have increased their removal of content. Social media services like Facebook and Twitter have blocked a large number of accounts against the military. However, this is a compromise of internet users' right to information.
In other countries like Russia with strict government censorship, people use virtual private networks to take back web freedom. How about Myanmar? Can you use a VPN in Myanmar?
Are VPNs banned in Myanmar?
It is reported in January 2022 that the Burmese military is planning to ban VPN use under a proposed new cybersecurity law. Before the law is finally out, you still have a chance to get a VPN for Myanmar. That's why VPN use in Myanmar increased by more than 7000% after the coup. But you must know that using VPNs in Burma is risky.
Thanks to the difficulty to identify VPN traffic, it's rare that people get caught using a VPN even in many places where VPNs are banned. In Myanmar, we DO NOT encourage you to use any free virtual private networks or unsecured proxies that only focus on speed. You should choose a VPN with strong encryption and reliable protocols.
How can you get a VPN for Myanmar?
Given the strict internet censorship in Myanmar, it is important to choose a powerful and secure VPN with the ability to bypass restrictions and protect privacy. The followings are some considerations to keep in mind.
 Ability to bypass the government censorship
 Large server network to access the global network
 Strong VPN encryption to encrypt online activity
 Strict 0-log policy to shield your privacy
 Good value for money
 Easy to use even for VPN beginners
To get a quality VPN for Myanmar, you can go to providers' official websites or directly search for VPN on Apple App Store or Google Play.
PandaVPN – A Fast, Secure, and Private VPN for Myanmar
Based on the reference standards mentioned above, we recommend PandaVPN to you. As a Burma VPN, it provides fast, private, and secure VPN connections to let you access black-listed websites. Check below what can PandaVPN do for you.
Unblock Facebook, Instagram, Twitter, etc.
PandaVPN can easily unblock social apps including Facebook, Instagram, and Twitter that are blacklisted in Myanmar. Moreover, you can get access to popular streaming platforms like Netflix US, Vimeo, HBO Max, Disney+, etc.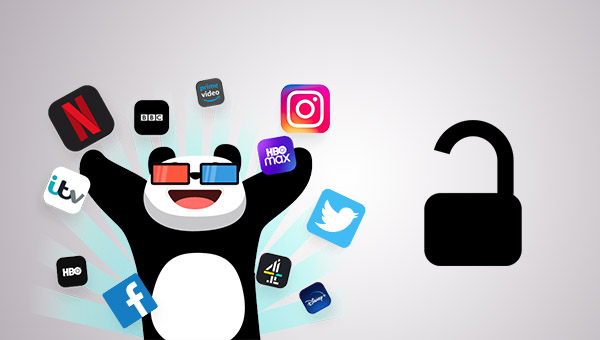 Offer 3000+ High Speed VPN Servers
With 3000+ (and counting) servers scattered in 178 VPN server locations of 80 countries, PandaVPN offers you access to the global network, covering the US, UK, Australia, Germany, France, UAE, Japan, Korea, etc. Every server provides a fast and stable connection.
PandaVPN now has no Burmese IP address to offer. But it is striving to expand its server network and trying its best to become a VPN with Myanmar servers as well.
Encrypt Your Data with ECC Encryption
PandaVPN protects your online activity with the highest level of ECC encryption algorithm. What you view and do online is safe from the snooping of hackers, advertisers, and the Burmese authorities.
Protect Your Privacy with 0 Log Policy
Based on the full respect of every user, PandaVPN doesn't record your username, email address, and payment details (if you pay in Bitcoin). Your online activities are secrets to yourself. Panda records no of your browsing history and downloaded files.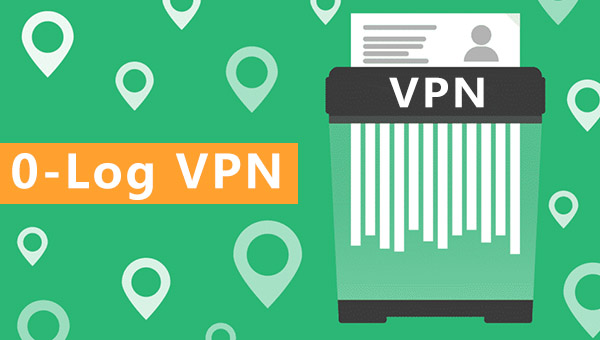 Good Value for Money
PandaVPN has a very competitive price compared with the well-known ExpressVPN or NordVPN. You buy a 1-year VPN service and get an extra year subscription.
Easy to Use
Tested by 30 million users worldwide, PandaVPN is an easy-to-use VPN service, even for VPN beginners.
It takes you only just a few minutes to complete the process from signup to set up. With one click to register, you can get a random digital account. Then you can download PandaVPN to your Android, iOS, macOS, Windows, etc., devices.
It's easy to use too. PandaVPN will automatically select the best server based on your location. Also, you can manually connect to any servers you like from our VPN server list. Considerate service customer is offered as well. For any doubts, you can contact us via live chat and email around the clock.
How to unblock restricted content in Myanmar?
Keep reading the below content to know how to get PandaVPN in Myanmar and follow the steps to unblock restricted content in Myanmar with PandaVPN:
Step 1. Here we take PandaVPN for Windows as an example. Head to PandaVPN's official site to Get PandaVPN. You'll get a random digital account. Besides Windows PCs, it is also compatible with macOS computers, Android and iOS devices, Linux-based devices, and Android TV.
Step 2. Set a passport for your account, select a VPN plan, and pay for it. The best value plan goes for the 1-plus-1-year subscription, with a price as low as $2.49 per month.
Step 3. Free download PandaVPN for PC Windows or other clients and install it onto your device.
Step 4. Run PandaVPN and choose a server from the 3000+ server list to connect.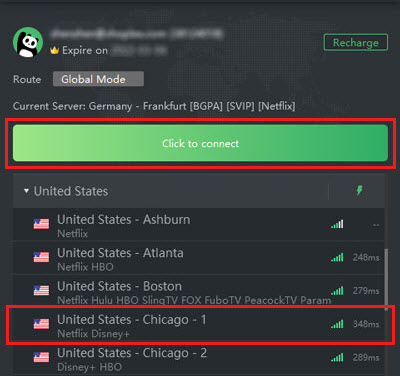 Step 5. Now you can view the content that was previously blocked in Myanmar or only available in other countries.
FAQs about Myanmar VPN
Q: Are free VPNs safe to use in Myanmar?
Not every free VPN is a bad apple, and there are some free VPNs out there. However, most free VPNs are not safe enough, coming with risks.
Some free VPNs have shady privacy policies, and some sell data to third parties. Some even contain ads and malware. Advertisers will steal your personal information and browsing history so that they can show you ads according to your needs. Malware is a harm to your devices.
In addition to security concerns, most free VPNs perform poorly. With limited servers shared by hundreds and thousands of users at the same time, free VPNs can only provide limited speeds. Streaming services like Netflix are hard to unblock for free VPN providers as bypassing the geographical restrictions is difficult.
Therefore, Paid VPNs are a better choice. PandaVPN we mentioned above deserves a try. You can get its VPN free trial to have a try.
Q: Are VPNs legal in Myanmar?
Using VPNs may be illegal in Myanmar since the military government is set to outlaw the use of virtual private networks according to a proposed new cybersecurity law. It is reported that the Myanmar police go as far as confiscating people's phones on the street and checking for a VPN app. This makes Burma one of the riskiest countries in the world for using a VPN.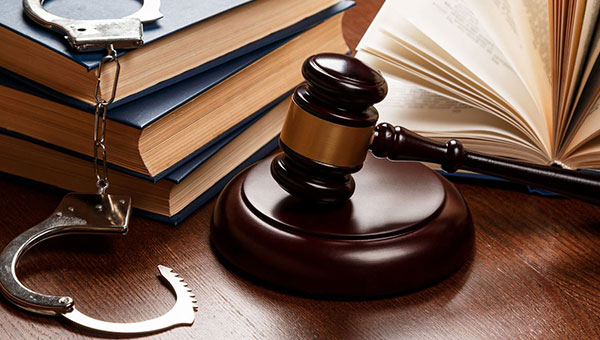 Q: How to use Facebook in Myanmar without VPN?
Using a VPN is the safest way to unblock Facebook and more sites. If you can't get a Myanmar VPN, try the following steps:
1) Open Chrome and go to the "Settings" page.
2) Click on "Privacy and security" and find the "Security" tab.
3) Scroll down to "Use secure DNS" and custom the DNS server to Cloudflare (1.1.1.1).
4) Open the Facebook website and see whether you can access it without a VPN in your country. If not, PandaVPN is a good try. The iOS client offers a 7-day free VPN trial, while the Android client has 3 days to try it out for free.
Q: Is YouTube banned in Myanmar?
After the coup in Myanmar, YouTube has removed several channels from broadcasters run by Myanmar's military, including MRTV and Myawaddy Media. However, there is no report saying that YouTube has been banned in Myanmar.
Final Words
After the military coup at the beginning of 2021, Myanmar is a country where you need a VPN. A VPN can greatly improve your privacy and anonymity online, but pay attention that it will never be a harbor for criminal violations. So try to use a pseudonymous account on social media.
Exercise your rights to privacy in digital age!
Get PandaVPN
7-day money-back guarantee