Best Turkey VPN with Turkish IP Addresses
Tony Bennett
2021.11.30
Articles & News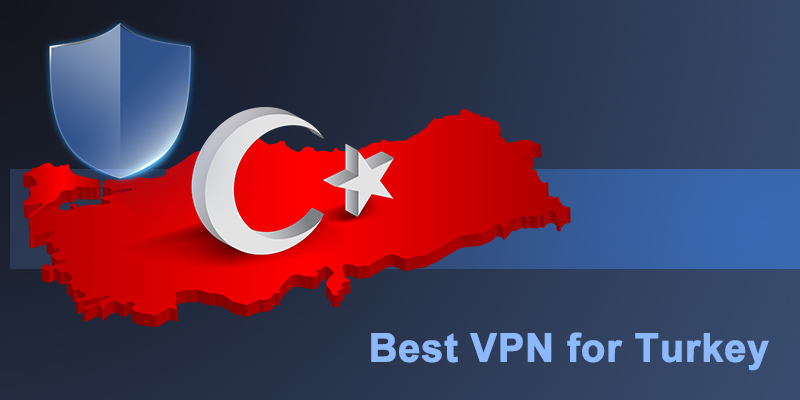 In Turkey, there are strict bans on social media services like Facebook, Twitter, YouTube, etc. People here have no free access to information outside. That's why we are here to advise on the best Turkey VPN.
But note that Turkey also bans specific VPN providers! So, you'd better install a VPN onto your device before you head to Turkey. Besides, this article explores more on using VPN in Turkey. Just keep reading.
Is VPN Legal in Turkey?
VPNs are legal in Turkey, but there are strict restrictions.
Since 2016, the Turkish government has been limiting VPN use. Many VPN providers have been blocked in Turkey, including Hotspot Shield, Psiphon, Zenmate, TunnelBear, Zero VPN, and VPN Master. By the way, Tor Browser is not an exception.
If you are going to Turkey, it's best to prepare a VPN before you depart. Also, we do not encourage readers to do illegal activities and criminal behaviors online while connected to a VPN. These are subject to the laws and regulations of Turkey.
What Makes a Good Turkey VPN?
When it comes to how to choose a good VPN for Turkey, you should keep the following considerations in mind.
– Strong VPN encryption to lock your identity details and internet traces
– Secure VPN protocol to further shield your connections
– A privacy policy that respects and protects your privacy
– Geo-restriction blocking ability to access restricted content
– Large global server network with fast and stable speed
– 24/7 live chat support in case you run into problems
PandaVPN – The Best VPN for Turkey in 2021
PandaVPN completely meets the requirements mentioned above, offering private, secure, and fast connections. That's why we recommend it to you here. Now check what PandaVPN can offer.
1. ECC Encryption
PandaVPN is based on a 256-bit ECC encryption algorithm, the highest level of the asymmetric encryption algorithm. All of your online traffic is transferred in an encrypted and virtual tunnel. Hackers, advertisers, and ISPs have no access to snoop on it.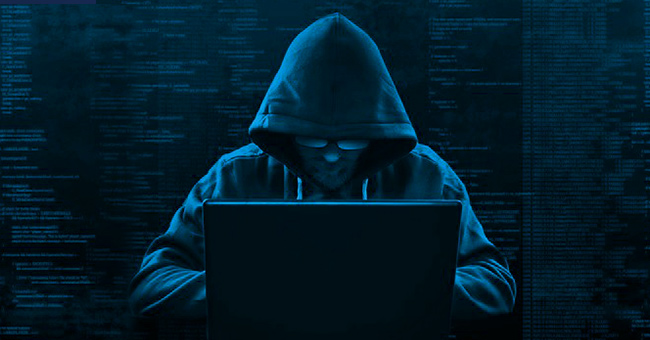 2. OpenVPN Protocol
PandaVPN adopts OpenVPN protocol to further protect your online connections. Offering 256-bit AES key encryption and 2048-bit RSA authentication, OpenVPN is a safeguard for your traffic. Besides, it also provides a quick speed.
3. Zero Log Policy
PandaVPN respects every user's privacy. Never force you to leave your username, email address, and payment details (if you pay in Bitcoin). Instead, a random string of numbers is used as your account. And of course, PandaVPN doesn't record your browsing history and downloaded files.
4. Bypass Geo-Restrictions
PandaVPN can easily help you to unblock restricted websites and apps in Turkey, like Facebook, Twitter, YouTube, etc. As a result, you can access global social media services, streaming platforms, and more without limitations.
5. 3000+ Servers Around the World
PandaVPN offers over 3,000 high-speed servers (and counting) in 178 VPN server locations of 80 countries around the world, covering some of the most censored countries like Saudi Arabia, Egypt, Iran, Myanmar, Indonesia, etc.. Its large server network even includes enough Turkey servers for Turks outside to connect their network back to their home countries.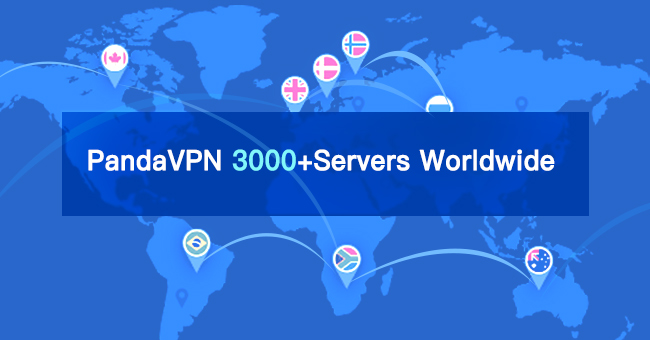 All servers are based on patented acceleration technology, with no speed limit and data cap. The server bandwidth can reach up to 10Gbps.
6. 24/7 Customer Support
24/7 customer support is available. If you have any doubts or problems about our product or service, just feel free to contact our customer care agents. We're always ready to give you hand.
How to Get a Turkey VPN?
Follow the simple steps to get PandaVPN, the best VPN for Turkey in 2021.
Step 1. Head to PandaVPN's official homepage to Get PandaVPN onto your device. iOS, Android, macOS, Windows, etc., are supported.
Step 2. It will automatically generate a digital account for you. This way, you don't have to offer a user name and email address.
Step 3. Select a VPN plan and pay for it. If you pay in Bitcoin, you don't need to provide payment details like credit card information.
Step 4. Download PandaVPN and install it on your device. Now you have your Turkey VPN! We advise you to get it before heading to Turkey to ensure you obtain the freedom to access apps and sites that are blocked in Turkey.
PandaVPN Is a VPN with Turkey Server as Well
PandaVPN not only connects people here to the outside network. On the other hand, PandaVPN enables you to get Turkey IP address if you wish to connect to the network in Turkey. How to get Turkey IP address? Check it out.
Step 1. Login to the digital account for PandaVPN you've just applied for.
Step 2. Here we take the Windows client as an example. Type Turkey in the search box, and you'll get several Turkey servers.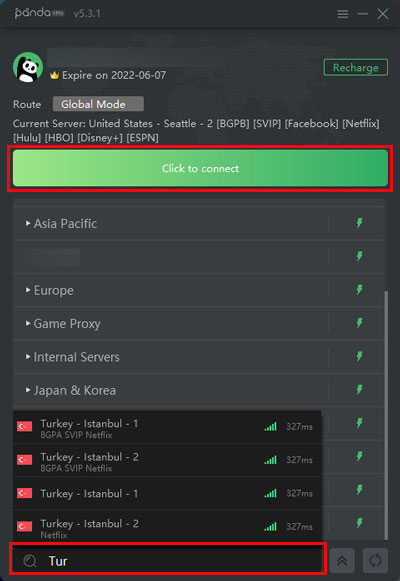 Step 3. Choose one to connect to. As you can see, some are marked with Netflix. That means you can use it to watch Netflix.
Is Free VPN for Turkey Reliable?
Generally, free VPNs aren't a good choice for privacy protection.
Most free VPNs are unsafe since they only offer weak encryption standards. To maintain their business, they profit from ads that have a great interest in your online activities and browsing habits. Even worse, about 38% of free VPNs contain malware!
Furthermore, for free users, there aren't so many servers for you to choose from. And you might suffer from bandwidth throttling. Slow VPN speed makes it hard to watch Netflix or play online games.
Therefore, we refer readers to use a paid VPN. PandaVPN offers a competitive price compared with the well-known ExpressVPN. If you're still unsure, you can try its free VPN trial first.
Conclusion
Turkey not only blocked the most popular social media services like Facebook, Twitter, and YouTube, but also bans many VPN providers like Hotspot Shield, Psiphon, Zenmate, and TunnelBear. A workable and trusted VPN that can bypass government censorship is a must in Turkey.
PandaVPN is based in Seychelles, offering secure, private, and fast VPN connections for you to unblock restrictions. If you want a Turkish IP address, PandaVPN can also help. Get it to have a try >
Exercise your rights to privacy in digital age!
Get PandaVPN
7-day money-back guarantee